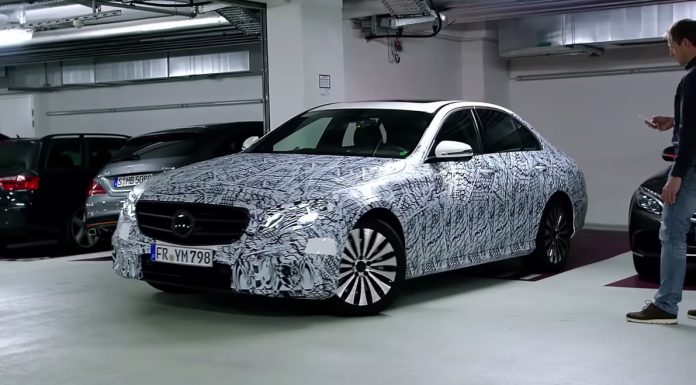 Just after it emerged yesterday that the next-generation Mercedes-Benz E-Class will feature remote parking, the German automaker has released a video showing the advanced system in action.
[youtube]https://www.youtube.com/watch?v=k_o-H1j4zZs[/youtube]
In practice, the remote parking of the new E-Class works in a very way to the 2016 BMW 7-Series. At the touch of a button, the car can move forward and backwards into a tight parking space while also making small turning inputs. Unlike the system for the 7-Series, the one from the E-Class can be controlled through a smartphone app. For the 7-Series, the vehicle's digital 'Display Key' has to be used.
Beyond its remote parking system, new E-Class will feature a myriad of technologies to assist in semi-autonomous driving. One interesting feature will be the 'Car-to-X' communication system created to recognise and communicate with other vehicles. This system will help reduce the risks of collisions around tight bends and at junctions, particularly when it is hard to see other traffic.
Elsewhere, the next-generation E-Class will incorporate a selection of advanced sensors as well as a facing forward stereo camera alongside side and rear facing cameras. A developed version of the German marque's Intelligent Drive system will also be implemented to ensure that the E-Class remains at an appropriate distance from other vehicles it is following on highways at up to 200 km/h.