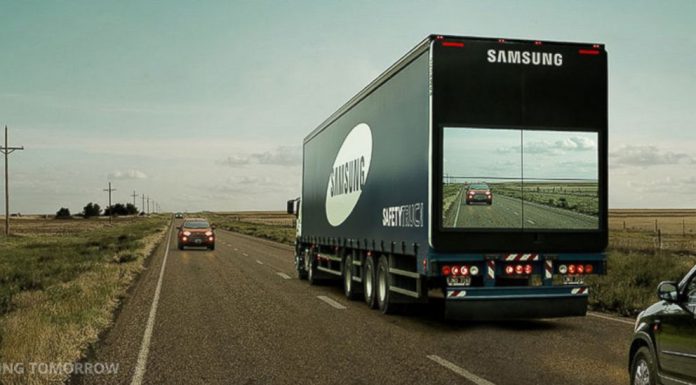 While Samsung is better known for the plethora of mobile devices it offers rather than road-going vehicles, the technology company has just unveiled a prototype 'see-through' truck that aims to make roads just that little bit safer.
The truck has been designed for the times when you're driving behind a slow moving truck on a two-lane highway. It eliminates the risk of pulling out from behind the truck only to find an oncoming vehicle in the other lane.
[youtube]http://www.youtube.com/watch?v=6GNGfse9ZK8[/youtube]
To do this, the prototype truck has been installed with a front-facing camera which records what the truck driver is seeing out the windscreen. The live images from that camera are then projected onto the rear of the truck to therefore give following drivers a look at what exactly is happening in front of the truck.
Discussing the technology, a recent Samsung blog post said "This allows drivers to have a better view when deciding whether it is safe to overtake. Another advantage of the Safety Truck is that it may reduce the risk of accidents caused by sudden braking or animals crossing the road."
[Via ABC News]