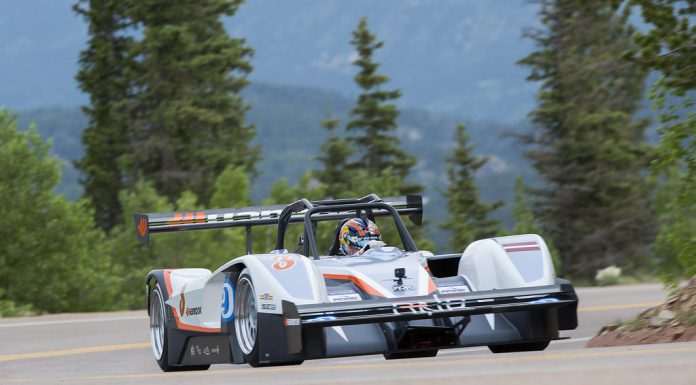 At the annual Pikes Peak International Hill Climb 2015 over the weekend, Rhys Millen made history by claiming overall victory in his all-electric racer. Now the complete video of his impressive Race to the Cloud's run has been released.
[youtube]https://www.youtube.com/watch?v=nMjsAMlXGBI[/youtube]
As you'd expect, it features insane amounts of wind noise throughout and nothing else apart from some ridiculous cornering speeds and impressive driving maneuvers.
Millen managed to conquer the course in an impressive 9 minutes and 7.22 seconds. While that time is significantly slower than Sebastian Loeb's record time of 8:13.878, it is the fastest time ever set by an electric car. As further evidence of the shift away from internal combustion engines to electric cars, Nobuhiro 'Monster' Tajima' came home in second behind the wheel of his electric Rimac e-Runner with a 9:32.401.
Millen's car was created by Latvian company Drive eO and features six electric motors. All told, the hill climber pumps out 1368 hp and 1593 lb-ft of torque. Despite the 50 kWh lithium-ion battery pack needed to power the electric motors, the car weighs just 1200 kg.