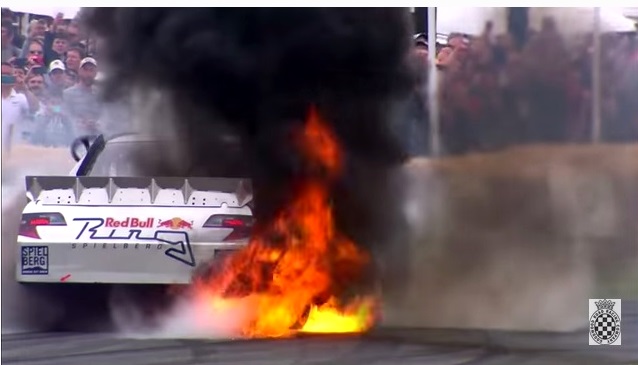 Among one of the loudest and most beastly race cars at this weekend's Goodwood Festival of Speed 2015 was certainly the Toyota Camry NASCAR piloted by Austrian driver Patrick Friesacher.
While NASCAR's are exceptionally fast both around corners and along the straights, the primary goal of this particular run from Friesacher was to put on a show for the screaming fans. To do this, he performed some smoky burnouts one of which went a little bit too far.
[youtube]http://www.youtube.com/watch?v=DchkT4c9eIc[/youtube]
While tackling the famous hill climb, Friesacher came to a stop and performed a ferocious burnout while even removing the steering wheel and hanging it out of the window. Unbeknowst to the racer however, the right rear of the NASCAR caught on fire. It's unclear how the fire started, but unburnt fuel coming out of the side exiting exhaust seems like a possible explanation.
Whatever caused the blaze, Friesacher decided to continue on his run down the U.K's most famous driveway despite the fire still burning away at the racer's rear-end!