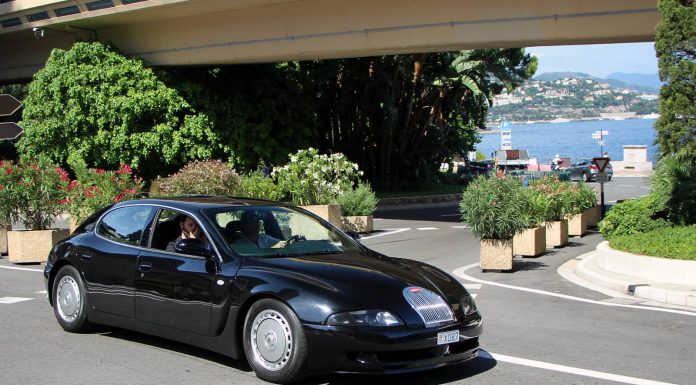 An extremely rare Bugatti EB112 has been spotted on the streets of Monaco. The Bugatti EB112 was only produced as a prototype vehicle by Bugatti and came up on the carmaker's agenda after the success of the EB110, Bugatti's first car after 40 years produced in 1991.
Only two models of the EB112 were ever produced, although it is rumoured that a third one is owned by Giorgetto Giugiaro who designed the car. The EB112 was unveiled at the Geneva Motor Show 1993 and gathered mixed reviews from the public and critics. The car was Bugatti's attempt to introduce a four-door luxury coupé that was spacious yet extremely fast.
Its design "evoked the elegance of the 1920s and 1930s" and the interiors looked modern with the use of fine leather. The car looked daring and obnoxious, but captured Bugatti's rich heritage. Moreover, the EB112 featured a powerful 6.0-litre V12 engine capable of producing around 450 hp. The car can sprint from 0 to 100 km/h in just 4.3 seconds and has a top speed of 300 km/h.
[youtube]https://www.youtube.com/watch?v=cT-SsY0VyDg[/youtube]
A six-speed manual gearbox transmits the power to all the wheels of the car. The EB112 came equipped with an Anti-Braking System (ABS) and the body of the car was made of aluminium, along with a carbon chassis which was a significant accomplishment for an automobile manufacturer at that time. Moreover, the engine of the EB112 was placed behind the front wheels and near the car's centre of gravity. This helped in improving the weight distribution and control.
The EB112 was to be added to Bugatti's lineup in 1996. However, owing to financial limitations, Bugatti had to scrap the project.
The variant of the car seen in Monaco is owned by Gildo Pastor, a real estate tycoon. This particular EB112 has only been seen once before, around two years ago. While we believe there could be three models of the car worldwide, this number hasn't been officially verified.
[Via Carsnco]