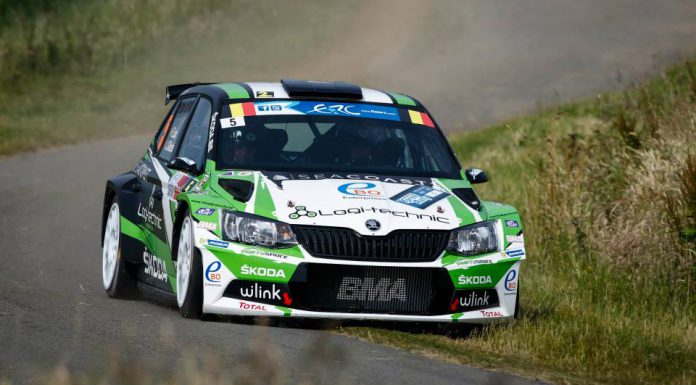 Freddy Loix won the 2015 FIA ERC Ypres Rally this past weekend to score his 10th career win at the event which he has taken part for 20 years now. The 45-year old did so by giving the new Skoda Fabia R5 its debut win in FIA ERC. Loix took advantage of the last stages where top leaders suffered various difficulties in their cars. The new Skoda Fabia R5 was not easy either as it had difficulties while coming out of sharp T junctions, but these problems were no match for the experienced Loix.
Bryan Bouffier who was leading in the final stages suffered a puncture on Stage 15 and ended losing valuable time to Loix, he finished second eventually in the Citroen DS3 R5. Vincent Verschueren completed the podium in another Citroen DS3 R5 giving Citroen a double podium victory. Championship leader Craig Breen retired on stage 12. Meanwhile, Loix also managed to clinch the maximum ERC Asphalt Masters points.
Speaking about his victory, Loix said: "We started not so quick, with a new car that we had to get used to. It was not such a good feeling to start off with changing direction, but we worked very hard as a team and step-by-step we did it. To win the Ypres Rally for a tenth time is pretty special. For a 45-year old driver, twentieth time here, against all these young drivers, is not so bad! It is a highlight of my career."
Polish youngster Aleks Zawada claimed victory in the ERC Junior category driving an Adam R2 to lead Marijan Griebel in another Adam R2 Julius Tannert made it an all Opel podium by finishing third in the other Adam R2. Elsewhere in ERC2, Tibor Érdi clinched victory in his Mitsubishi Evo leading Vojtěch Štajf – who still leads the ERC2 standings – in his Subaru WRX STI.
Romain Dumas was awarded with the Colin McRae ERC Flat Out Trophy for driving hard throughout the stages until he suffered a transmission problem in his Porsche 911 GT3. Dumas has taken part in many events including winning pole at the Le Mans 24 Hours. He's currently contesting in the FIA R-GT class.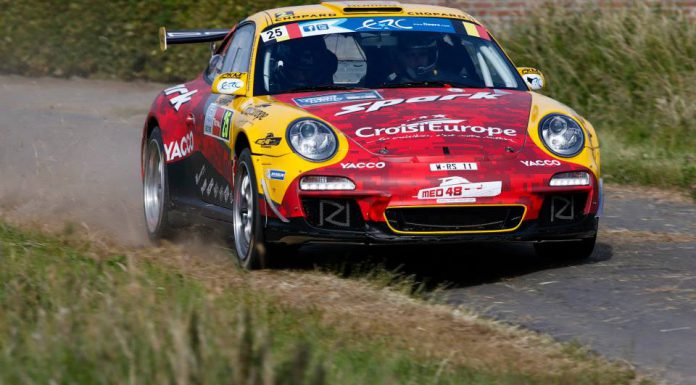 "I am doing rallies for fun, as you know, and I like to enjoy and to push.", said Dumas. "Ypres was a new rally for me. Everyone told me it would be very difficult, and it was difficult. Sometimes I went left instead of right, but when I found the speed it was very quick. I am very happy, and when I come back I will be even more happy to complete two more stages than we managed this time and finish the rally!
"I remember Colin when he did Le Mans, because he wore an open-faced helmet and normally nobody wears an open-face helmet. I always wanted to use in the closed car, but Porsche never wanted, but I think an open-faced helmet is a lot easier because you can plug your belts in and everything."