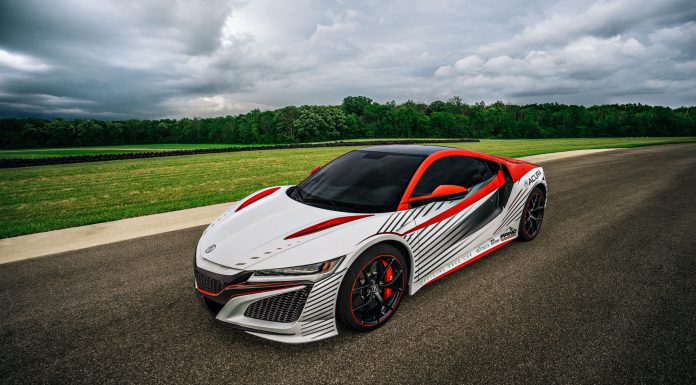 Alongside Goodwood, this weekend is also playing host to the Pikes Peak International Hill Climb. Appropriately dubbed the Race to the Clouds, the event is the most grueling hill climb in the world and the pace car for this year's event has just been revealed in the form of a 2016 Honda NSX.
This particular Honda NSX features a special white, black and bright red livery as well as a set of satin black wheels with red outer rims. Red brake calipers then complete the look.
The NSX itself has been prepared by Honda R&D Americas and throughout its pace car duties, it will be driven by senior manager of American Honda Public Relations and former Pikes peak competitor Sage Marie.
Discussing the car, senior vice president and general manager of the Acura Division Mike Accavitti said "As the pace car, the beast that is NSX will not be fully let of its cage, but fans and drivers will still get a first glimpse of the unique character, performance and handling of the NSX in a one-of-a-kind racing environment."
Engine wise, the 2016 Honda NSX makes use of a twin-turbocharged 3.5-litre V6 engine. The 3.5-litre engine is then joined with an electric motor at the rear while a nine-speed dual-clutch transmission sends the power to the ground.