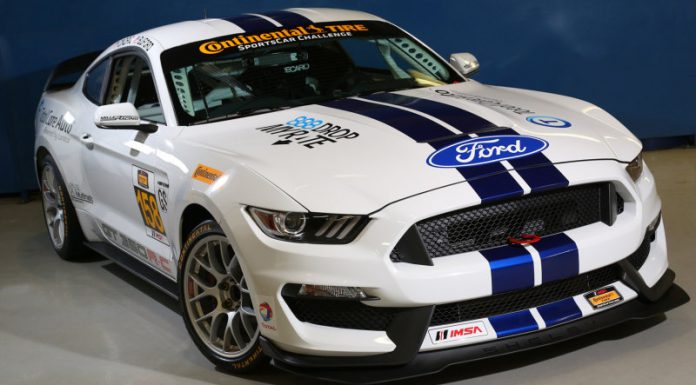 The brand new 2016 Ford Mustang Shelby GT350R-C has just been revealed. The car is a race-prepped version of the already extremely GT350R and will race at the IMSA Continental Tire SportsCar Challenge race at Watkins Glen this weekend.
Set to be entered by Multimatic Motorsports, the GT350R-C can be distinguished from the brand new road car thanks to a range of new components. For starters, the independent suspension has been revised for the track while new sway bars and tweaked springs rates are also featured. Interestingly, no further technical details about the race car have been released.
With that being said, it will be installed with the 5.2-litre flat-plane crank V8 like the road car but it remains to be seen if it will be uprated or even slightly detuned for competition use. Whatever the case may be, it is expected to be joined with a racing-spec sequential transmission as well as upgraded brakes. It is inevitable that the interior will also be stripped out.
According to president of IMSA Scott Atherton, "American muscle cars have a storied history in the Continental Tire SportsCar Challenge, and we eagerly anticipate the start of a new chapter with introduction of the Shelby GT350R-C. Mustang has earned icon status through its racing heritage going back to the competition Mustangs of the 1960s, and this new race car will undoubtedly add to the legend."