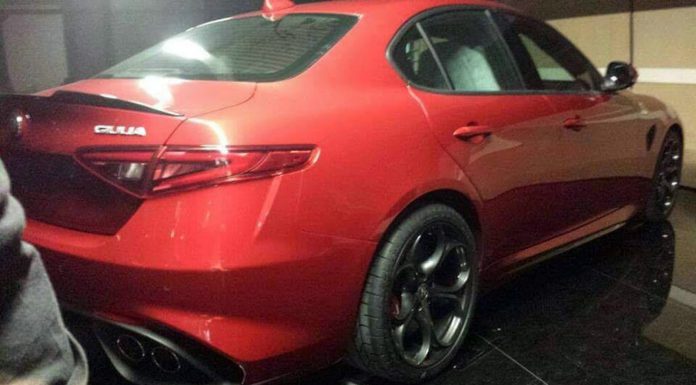 A couple of official images of the Alfa Romeo Giulia set to debut later today have leaked online.
While the images aren't from the vehicle's official photoshoot like leaked images so often are, they appear to be the real deal and show off the rear and side of the new Italian sedan. Excitingly, the Giulia in question is believed to be the range-topping Alfa Romeo Giulia Quadrifoglio Verde model installed with a Ferrari-derived twin-turbocharged 2.9-litre V6 engine.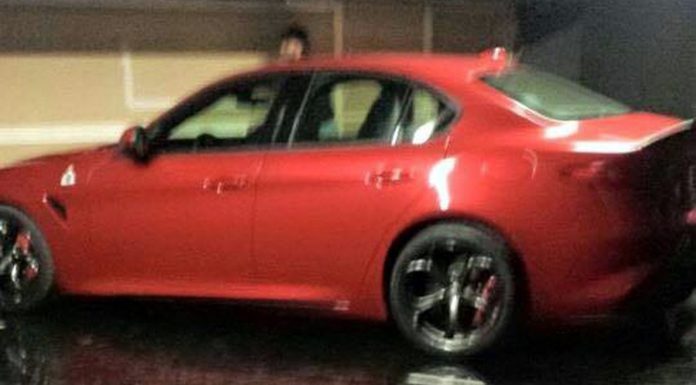 Generally speaking, the Giulia features a flowing yet aggressive design quite different from other existing Alfa Romeo models. The taillights are wide and thin while a prominent BMW-inspired sharkfin antenna is also found on the roof. This particular QV variant also features a bold bootlid lip spoiler as well as what appears to be a quad exhaust pipe setup and an eye-catching rear diffuser. Characteristic Alfa Romeo wheels are also present.
Following the Giulia's debut, it will reach the U.S. market in the first quarter of 2016. On an engine front, reports suggest that the entry-level model will use a 2.2-litre four-cylinder turbocharged diesel delivering between 135 hp and 210 hp depending on specification. Elsewhere, a 2.0-litre four-cylinder petrol which will be turbocharged and fitted with MultiAir variable valve timing will also be produced. It will be available in outputs ranging from 180 hp to 330 hp and be made available alongside either a manual or automatic transmission as well as rear-wheel drive and all-wheel drive.