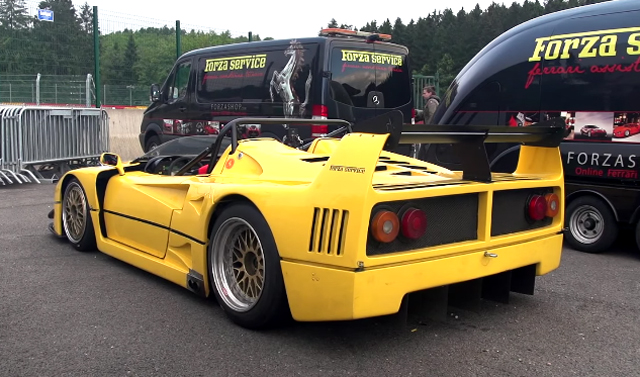 Back in April, we brought you the incredible video of the bespoke Ferrari F40 Barchetta Beurlys hitting the track. Now a new video of the insae F40 racer hitting Spa Francorchamps has been released. Additionally, the clip includes an interview with its current owner.
[youtube]https://www.youtube.com/watch?v=TQN774hKtcE[/youtube]
The Ferrari F40 Barchetta Beurlys is based around the extreme F40 LM and was owned and created by Belgium billionaire and car collector Jean Blaton operating under the pseudonym Jean Beurlys. The car was converted into a Barchetta by Tony Gillet with the double-wishbone suspension also being replaced with a coilover system similar to the Ferrari Enzo and FXX. Additionally, a modified exhaust system was created with the pipes exiting just in front of the rear wheels.
As the Ferrari F40 Barchetta Beurlys is based around the F40 LM, its 2.9-litre twin-turbocharged V8 engine has been heavily upgraded from the road car's 478 hp and 576 Nm outputs. While the standard F40 LM delivers 700 hp, further engine modifications to the Barchetta result in a total of 760 hp.