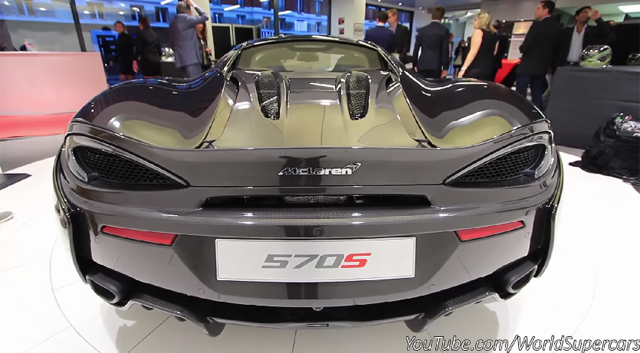 Originally unveiled at the New York Auto Show back in April, the McLaren 570S leads the charge in the British firm's new Sports Series range of vehicles. As customer deliveries nor even press drives of the new British sports car have been conducted, we haven't had a proper chance to hear the firm's entry-level model. Until now.
[youtube]https://www.youtube.com/watch?v=Ba4rQL-4KOY[/youtube]
The following clip was filmed it during the 570S's private debut at McLaren Paris. While the car features a very similar 3.8-litre twin-turbocharged V8 engine to the 650S and range-topping P1 hybrid hypercar, the 570S actually sounds quite different from those two.
This engine delivers a total of 564 hp in 570S specification. Consequently, the car can hit 100 km/h (62 mph) in 3.2-seconds, while 200 km/h (124 mph) is reached in a very impressive 9.5-seconds with the pace not letting up till the car reaches a top speed of 328 km/h (204mph).
The engine has been branded the M838TE with E standing for Evolution as 30 per cent of the car's engine is bespoke. Linked to the engine is a seven-speed SSG transmission that promises to be quick and smooth. Stopping power should be just as impressive courtesy of standard-fit carbon ceramic brakes, fitted behind a newly designed range of forged alloy wheel options shod, as standard, with Pirelli P Zero Corsa tyres.