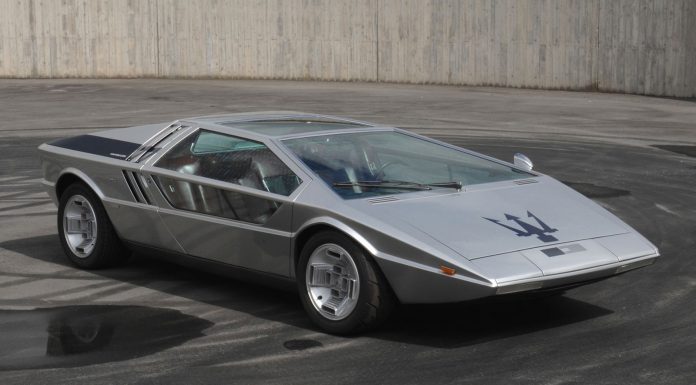 The one-off Maserati Boomerang Concept is set to go under the hammer at Bonhams upcoming auction in France. Originally unveiled in 1971 for the Turin Motors Show, the Boomerang Concept is tipped to sell for between 3 and 4 million euros.
Based around the Maserati Bora, the Boomerang is noteworthy for its unique wedge shape designed by Giugiaro. The nose of the car is extremely angular and bold while straight lines and sharp edges complete the car.
Despite the car's outlandish looks, it actually features an operational powertrain with a V8 engine delivering 300 hp and accelerating the car to 300 km/h. Even more incredible is the fact that it is fully road registered.
Bonhams European head of motoring, Philip Kantor said "The Boomerang was the first car of its time to create such a strong, angular style statement. It's considered by many to be one of the most remarkable designs of the 20th century and the 'grandfather' to the Volkswagen Golf Mk 1. The Boomerang has been shown at many world-class events including exhibitions and concours d'élégance such as Villa d'Este and Pebble Beach, and is now offered at Bonhams first ever sale in Chantilly."