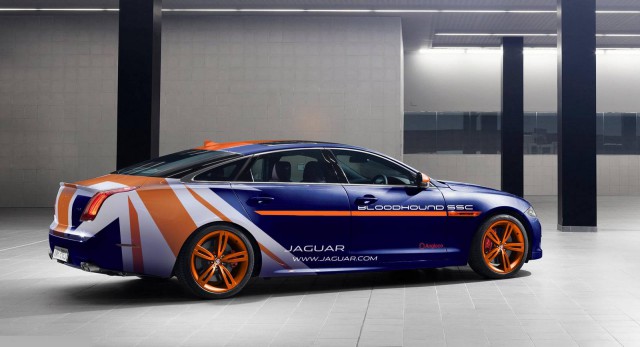 Four separate Jaguar models are set to celebrate their respective debuts at the upcoming Goodwood Festival of Speed 2015.
Headlining the British marque's appearance at Goodwood will be the just unveiled facelifted 2016 Jaguar XJ celebrating its world debut. While the new XJ isn't a radical overhaul over the outgoing model, it does feature an updated design and a range of impressive new features like its advanced InControl Touch Pro touchscreen infotainment system and Meridian Digital Reference audio system.
Beyond the XJ celebrating its world debut at the event, the latest-generation Jaguar XF will celebrate its UK debut at Goodwood. Designed to rival luxury sedans from the German trio of Audi, BMW and Mercedes-Benz, the new XF is radically different and improved over the standard car.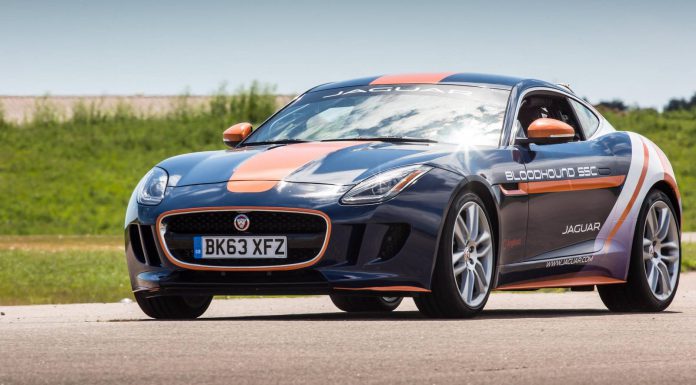 Also at Goodwood 2015, the Jaguar F-Type Project 7 will celebrate its first public appearance at the show as will the recently unveiled F-Type R AWD Bloodhound SSC Rapid Response vehicle. The covers will also be taken off the new Jaguar XJR Rapid Response Vehicle.
[showhide]
"Enhanced Jaguar XJ to make world debut at Goodwood Festival of Speed
New Jaguar XJR Rapid Response Vehicle for Bloodhound SSC to make dynamic world debut on Goodwood Hill
Innovative new Jaguar XF to receive UK premiere on Jaguar stand at Festival
First public appearance for production version of Jaguar F-TYPE Project 7
Jaguar stand to feature Bloodhound SSC driving experience and live F-TYPE track experience for show visitors
(Whitley, Coventry – 18 June 2015). In a year of exciting new product launches, Jaguar will give debuts to four new cars at Goodwood Festival of Speed 2015. The world premiere of the recently- announced, enhanced Jaguar XJ range on the Jaguar Land Rover stand will be marked by the debut appearance of a very special version of British marque's flagship luxury car, the Jaguar XJR Rapid Response Vehicle (RRV) for Bloodhound SSC.
Jaguar is a technical partner of the Bloodhound Project and visitors to the famous British motorsport festival this year will see both XJR and F-TYPE R Coupé versions of Bloodhound SSC Rapid Response Vehicles take on the Goodwood Hill in spectacular style. On the morning of Saturday 27 June, the Jaguar XJR RRV will be piloted by Bloodhound SSC driver Andy Green.
Visitors to the Jaguar Land Rover stand will be able to try out the new Bloodhound SSC driving experience and take part in a live track experience of F-TYPE, accompanied by a pro driver. On the stand, Jaguar will present a number of firsts including the international debut of the enhanced XJ luxury car and the UK debut of the all-new XF executive saloon.
Highlights of the new XJ, which will be available to order from Jaguar UK retailers from this autumn, include the new InControl Touch Pro touchscreen infotainment system offering door-to-door navigation, seamless iOS and Android connectivity, Wi-Fi hotspot and 26-speaker, 1,300W Meridian Digital Reference audio system. The enhanced XJ will be available to specify with an uprated 3.0-litre V6 diesel engine developing an impressive 300PS/700Nm.
The Jaguar RRVs will be joined on the Goodwood Hill by the first production version of the new F-TYPE Project 7, the exciting new 340PS, 3.0-litre Jaguar XE S, and a selection of Jaguar's most iconic heritage cars including XJ13, Group 44 E-type, Long Nose D-type, TWR XJS and Broadspeed XJ12C.
Jaguar and Bloodhound SSC: Technical Partners
The XJR RRV is the latest creation of Jaguar Land Rover's Special Vehicle Operations (SVO) division and follows hot-on-the-heels of the Bloodhound SSC F-TYPE R Coupé RRV, which was unveiled at the Coventry MotoFest. Jaguar has pedigree in Rapid Response Vehicle support to world land speed record drives, having supported Richard Noble's Thrust 2 in 1983 and Andy Green's Thrust SSC in 1997.
The RRVs will be used by the Bloodhound team throughout the high speed tests and World Land Speed Record attempts. The XJRs have been modified to carry customised equipment, supplied by British bespoke emergency equipment manufacturer Angloco. Jaguar Land Rover SVO engineers removed the rear seats of the XJR and fitted a roll-cage and specially-made housings to accommodate the support equipment.
John Edwards, Managing Director – Special Operations at Jaguar Land Rover, said: "These are specially developed cars for a very special purpose, showcasing SVO's ability to design and engineer bespoke vehicles to the highest possible standards. Equally importantly we're proud to be playing a part in another great British land speed record attempt."
The customised Jaguar XJR provides an ideal solution for keeping essential personnel and equipment close to Bloodhound at all times – the XJR has a spacious cabin and it's 5.0-litre V8 550PS Supercharged petrol engine takes it from 0-60mph in just 4.4 seconds and on to a top speed of 174mph.
A video showing the creation of the Bloodhound XJR can be viewed here: https://youtu.be/9RS5ZCkQOhs
– Ends -."
[/showhide]