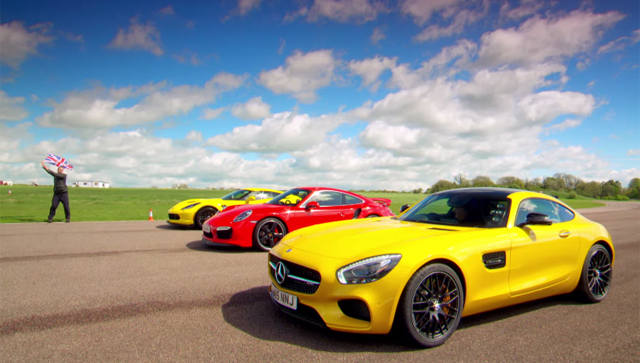 While Jeremy Clarkson, Richard Hammond and James May are no longer presenting Top Gear, that hasn't stopped the trio of automotive journalists from continuing to test some of the world's finest vehicles.
[youtube]https://www.youtube.com/watch?v=JVROYteNUd0[/youtube]
In their latest film, the trio headed to the track with a Porsche 911 Turbo, Mercedes-AMG GT S and Chevrolet Corvette Z06 for the YouTube channel of the Clarkson, Hammond & May Live Australia show. While it remains to be seen if the full race will only be aired at the TV hosts' live arena shows or later posted online, the following teaser clip will certainly get you excited about the three reuniting over what they do best.
While the race doesn't show a winner, it's pretty easy to guess which of the three sports cars would have come out on top; the 911 Turbo. While it delivers about 150 hp less than the Corvette Z06 and around the same as the AMG GT S, its advanced all-wheel drive and PDK transmission ensure it is one of the world's fastest acceleration cars.
As for when and how we may see Clarkson, Hammond and May return on a more permanent car show hosting basis, it is unclear. According to reports however, a deal with Netflix is firming up to be the favoured option.