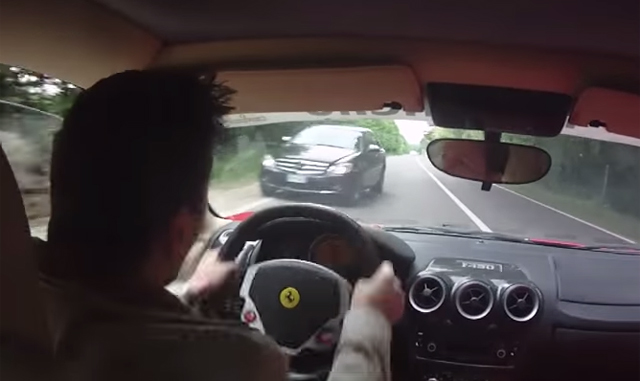 While not Ferraris most advanced or fastest model, the superseded Ferrari F430 is still an exceptional performance machine capable of some truly ludicrous speeds. The following F430 driver experienced first-hand what can go wrong when the Italian supercar is driven at ferocious speeds on public roads.
The following video comes from Ferrari's home of Maranello and was captured during a test drive and shows what could have been a truly horrific and possibly life-taking collision.
[youtube]https://www.youtube.com/watch?v=QlVwnF-oxhU#t=12[/youtube]
The issues started when a black Mercedes-Benz A-Class reportedly pulled out just 50 or 100 metres ahead of the speeding F430. Unable to brake in time to avoid the hatchback, the Ferrari driver was forced to quickly swerve to the left and into oncoming traffic where he was met with another Mercedes going the other way.
With just a split second to spare, he managed to swerve back into his lane, helped by the advanced ESP system, and escaped without incident. In the hands of a less experienced driver, a crash would have been inevitable.
The drivers impressive save aside, excessive speed was the primary cause of this near-disaster.