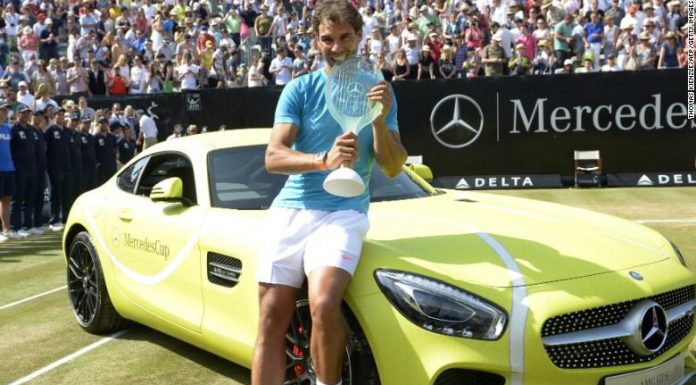 Formerly the world's number 1 male tennis player, Rafael Nadal recently slipped down to 10th in the ATP rankings after a disappointing showing at this month's French Open. However, Nadal is back in the winner's circle after taking out the Stuttgart tournament in this year's ATP Tour series. Alongside an impressive trophy, the Spaniard walked away with the keys to a brand new Mercedes-AMG GT S.
The AMG GT S in question has been painted in a fluro shade of yellow reminiscent of a tennis ball. Displayed here in an area with tennis court dimensions featuring the athlete himself. It also features a selection of white accents as well as Mercedes-Benz branding. Additionally, it is rolling on a set of matte black sports wheels and features bright red brake calipers.
GTspirit review of the Mercedes-AMG GT S

Despite having been sponsored by Kia for many years, Nadal was still inevitably pleased to be awarded the brand new German sports car.
"It's not a Kia, but it's still good," Nadal said. "I don't know if I can change the colour, because the colour is a little bit too much for me," he added.
While the colour may not be to the tennis ace's liking, the performance inevitably will be. The Mercedes-AMG GT S of course features a twin-turbocharged 4.0-litre V8 engine pumping out 510 hp and 650 Nm of torque. When combined with an overall weight of 1540 kg, the German sports car accelerates to 100 km/h in a brisk 3.8 seconds as well as a 310 km/h top speed.