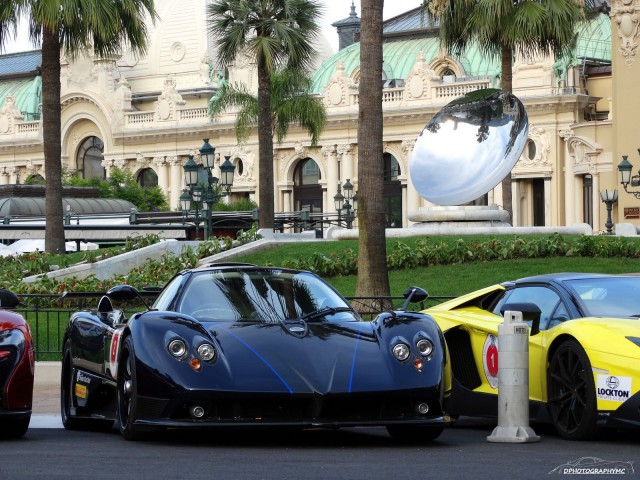 Not long after being delivered to its owner in London, the bespoke Pagani Zonda 760VR Roadster has been snapped parked at Casino Square in Monaco. Posing next to a Lamborghini Aventador LP720-4 50th Anniversario and a Volcano Red McLaren 650S, the Zonda 760VR looks truly exceptional.
The 760VR was created as the second convertible in the 760-series of Zondas and actually started out life as a Zonda F Roadster before recently being transformed into 760-spec.
For starters, the 760VR Roadster features most of the new visual and aerodynamic features of other Zonda 760 models. That means it features a new front-end, a towering rear wing and an exceptionally aggressive rear diffuser. It also features a similar roof scoop and decklid air intakes to the Zonda Cinque and the 760's now trademark rear fin. Interestingly however, it doesn't feature the flared wheel arches like other Zonda 760s.
Beyond these elements, the Pagani Zonda 760VR Roadster features matte black wheels and a dark blue paint job combining bright blue and carbon fibre accents.