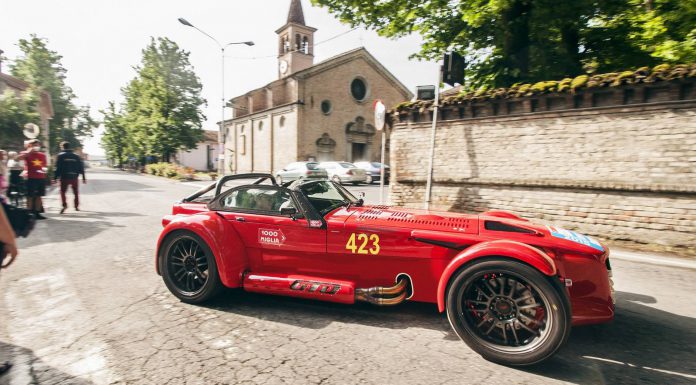 On this year's recently concluded Mille Miglia, the Donkervoort D8 GTO was the official support car. In order to celebrate this, the automaker has previewed the upcoming D8 GTO '1000 Miglia Edition'.
Whereas the Donkervoort D8 GTO Performance and Bilster Berg Editions have been created with performance the number one priority, the 1000 Miglia Edition is a softer, touring variant of the sports car. With that in mind, a number of changes have been implemented to distinguish the 1000 Miglia Edition.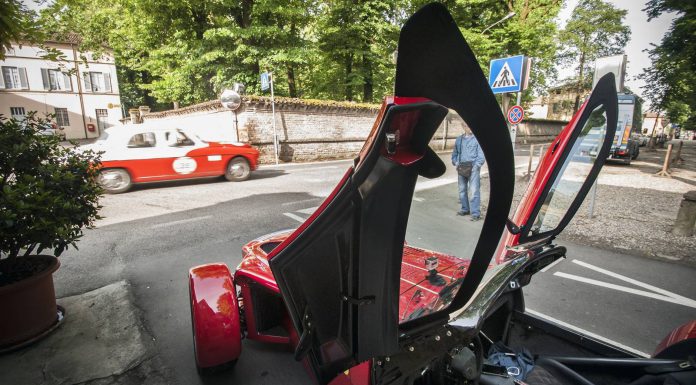 For starters, its Audi-sourced 2.5-litre TFSI five-cylinder engine has been detuned from 380 hp in the Bilster Berg Edition down to 310 hp. The car is also slightly heavier than other versions because of its reduced use of carbon fibre. With that being said, it still tips the scales at a scarce 760 kg.
Additionally, a higher driving position has been created by Donkervoort to help make the car more usable for the street. A set of adjustable comfort shock absorbers have also been installed while the interior now incorporates satellite navigation.
Just 25 examples of the Donkervoort D8 GTO 1000 Miglia Edition will be created with each costing at least 115,000 euros excluding VAT.
[showhide]
"For the first time in its 37-year history, Donkervoort was represented in the world-famous Mille Miglia; a fantastic rally on the most breathtaking roads in Italy. The D8 GTO joined this legendary event – by invitation, and as Official Support Car – which brings together the most famous racing cars of the past and the most high-profile supercars of today. Donkervoort sees this participation as an exceptional milestone, and is celebrating it with the launch of a special edition; the Donkervoort D8 GTO "1000 Miglia Edition".
D8 GTO "1000 Miglia Edition"
During the thousand-mile rally from Brescia to Rome and back, the focus is on ultimate driving pleasure in mostly historical, purist sports cars on wonderful roads. This is music to the years of the Dutch purist sports car manufacturer, which still operates under the motto 'No Compromise' when it comes to the search for the purest driving experience and pleasure.
The emphasis in the D8 GTO "1000 Miglia Edition" is therefore on maximising use of the GTO for touring purposes. The car was built with the aim of increasing both the ease-of-use and total comfort of the car, to ensure enjoyment of driving the GTO on Europe's most beautiful roads. For this reason, the Donkervoort D8 GTO "1000 Miglia Edition" is a true touring version, in contrast with its more circuit-oriented predecessors, such as the D8 GTO Performance and the Bilster Berg Edition.
Specifications
A quick look at some of the specifications for the Donkervoort D8 GTO "1000 Miglia Edition":
+ Engine | Fitted with a 310 BHP Audi 2.5L R5 TFSI engine, giving the car a slightly milder nature.
+ Weight | 760 kg total weight, caused by a reduction in use of carbon fibre, in exchange for slightly more road comfort.
+ Driving height | Increased driving height for street use, including adjustable comfort shock absorbers
+ Dashboard | A classically designed dashboard featuring conventional dials, with extra facilities (for telephone and navigation) integrated in the cockpit.
+ Limited Edition | limited edition of 25 cars, identified by specially designed logos and badges inside and out.
+ Price | Basic package price of €115,000 excl. BTW (Dutch VAT) (€139,150 – including 21% VAT)"
[/showhide]