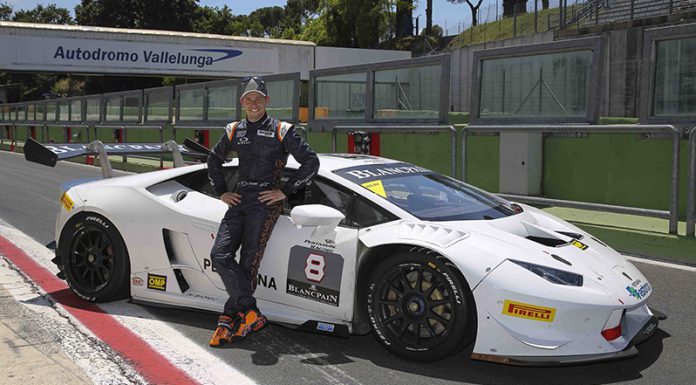 Two-time MotoGP World Champion Casey Stoner recently had the incredible opportunity to get behind the wheel of a Lamborghini Huracan LP620-2 Super Trofeo at Rome's Vallelunga circuit. While more familiar racing on two wheels, Stoner has competed in car racing series' in his home country of Australia and has proven himself to be quite capable with four wheels as well.
Stoner's Vallelunga experience came not long after he was given a private tour at the headquarters and factory of the Italian manufacturer. Lamborghini's Squadra Corse team is currently working at Vallelunga to help initiate and train drivers for the Lamborghini's Young Drivers and GT3 Junior Programs.
Discussing his experience with the Huracan Super Trofeo, Stoner said "I have to say a big thank you to Automobili Lamborghini for giving me the opportunity not only to have the Huracán for the week and have a lot of fun in that, but also for the occasion to come out to Vallelunga and do this test. Not many people in the world will get the opportunity to do this. It has been a fantastic day with lovable people from Lamborghini Squadra Corse.
"I wish to thank in particular Adrian Zaugg and all other coach drivers. I was able to run some laps with the Huracán Super Trofeo and get a feel of what a Lamborghini is like on the track was something very special. It was something I want to do again in the future," he said.
As the name of the Huracan LP620-2 Super Trofeo implies, it has 611 hp instead of the 602 hp of the standard model. Of more importance however, is the fact that it is rear-wheel drive.