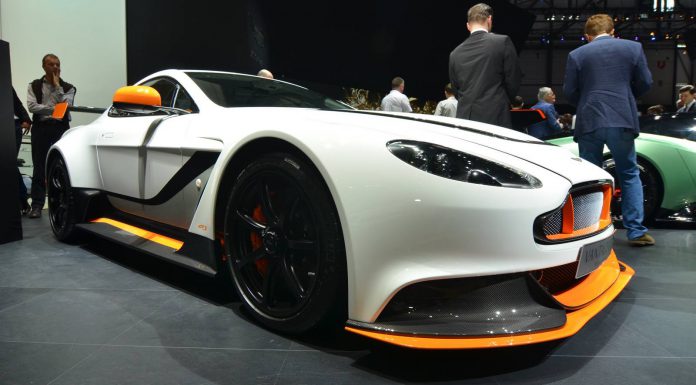 Just one day after it was announced that the exclusive Aston Martin Vantage GT12 had sold out, it has been confirmed the car will celebrate its UK debut at the Goodwood Festival of Speed 2015 later this month.
It will compete in the Moving Motor Show on Thursday the 25th of June and throughout the weekend, will be driven by Aston Martin boss Andy Palmer up the famous hillclimb. It will be joined at Goodwood by a range of other Aston Martin models including the Vanquish coupe, V12 Vantage S, Rapide S, Vanquish Volante and V12 Vantage S Roadster.
Due to the exclusive nature of the Vantage GT12, pricing details haven't been made public. Nevertheless, it is inevitable that each of the 100 units sold would have fetched high premiums over the already hardcore V12 Vantage S. Interestingly, when the car was first unveiled it was dubbed the Aston Martin Vantage GT3. Due to opposition from Porsche however, the British marque was forced to change the car's name to GT12.
All 100 units of the Aston Martin Vantage GT12 feature the firm's customary 5.9-litre V12 engine tuned to deliver 592 hp as well as 461 lb-ft of torque. By comparison, the already potent Aston Martin V12 Vantage S produces 565 hp and 457 lb-ft. Helping to achieve the power and torque gains are new inlet manifolds, a titanium exhaust system as well as tweaked geometry. Finally, the torque tube is now made of lightweight magnesium and the titanium exhaust alone saves 19 kg from the car.
Thanks to this engine, the Vantage GT12 will accelerate to 96 km/h from a standstill in a mere 3.5 seconds down from the 3.7 seconds needed by the V12 Vantage S. Due to the added downforce generating elements of the Vantage GT12 however and the higher drag, the top speed has dropped from 329 km/h (205 mph) to 297 km/h (185 mph). Tweaks to the seven-speed transmission have also been made.