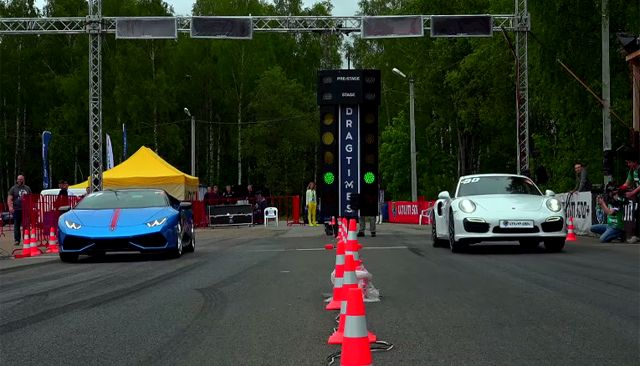 The Lamborghini Huracan and Porsche 911 Turbo S are two of the quickest accelerating cars on the planet. Need further proof of this and how closely matched these two supercars are? Then the following video is certainly worth a watch.
Filmed at one of Russia's popular Unlim500+ events, the clip sees the Huracan and 911 Turbo S pitted together in what proves to be one of the closest drag races we've ever watched. For the entirety of the race, the two are perfectly side by side and even as they cross the line, it's impossible to tell which one actually completed the quarter mile faster.
[youtube]https://www.youtube.com/watch?v=SMzhRtYxh3Q[/youtube]
In the end however, the Huracan managed to come out on top with a 10.743 second quarter mile. The 911 Turbo S on the other hand, came home with a 10.767 second sprint. The trap speed of the Huracan was also 2 km/h faster than the 911.
On paper, the Lamborghini Huracan's 5.2-litre V10 engine pumps out 602 hp and is mated to a seven-speed dual-clutch transmission driving all four wheels. The 911 Turbo S by comparison utilises a turbocharged six-cylinder with 552 hp, a PDK transmission and all-wheel drive.