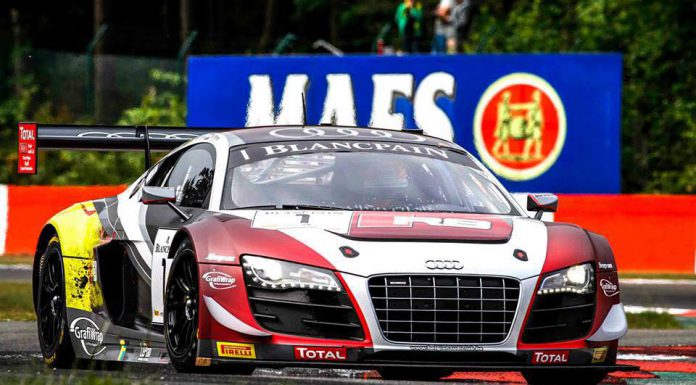 Belgian Audi Club Team WRT drivers Laurens Vanthoor and Robin Frijns claimed victory at the third round of the 2015 Blancpain Sprint Series in Zolder. This was not only a remarkable second consecutive win for the duo but also a memorable home win for Vanthoor who lives only a few minutes away from the circuit. Driving the #1 Audi R8 LMS Ultra the duo dominated the race from start to finish, having won pole and qualifying race as well.
Bentley Team HTP Motorsport claimed P2 with the #84 Bentley Continental GT3 which had earlier on made contact with the #333 Rinaldi Racing Ferrari 458 Italia. The Ferrari retired while the Bentley which was piloted Maxi Buhk and Vincent Abril went ahead to fight for second with the #77 BMW Sports Trophy Team Brasil BMW Z4 GT3. The later finished in P3 after drivers Atila Abreu and Valdeno Brito lost a few seconds when interchanging at the pit lanes.
The #83 Bentley Continental GT3 scored another victory for HTP Motorsport after winning in the Silver Cup category leading the #12 Audi R8 LMS Ultra from ISR. Bernd Schneider and Alexey Karachev had an easy time winning in the Pro-AM cup after their sister car – the #71 GT Russian Team Mercedes-Benz SLS AMG GT3 retired. The blue McLaren 650S GT3 from Attempto Racing was not classified.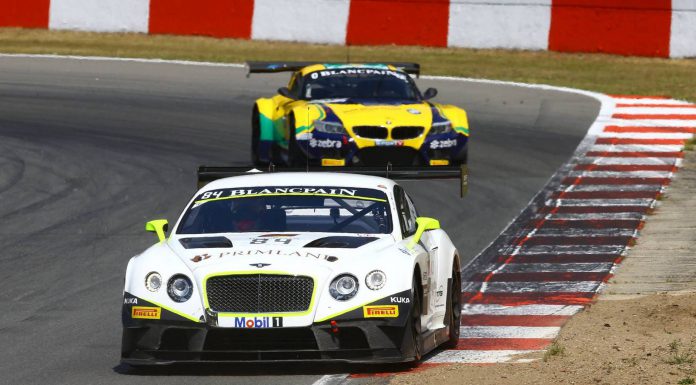 Elsewhere, the #2 Belgian Audi Club Team WRT of Christopher Mies was given a drive-through penalty for jumping the start. The German was fighting for P2 with the #77 BMW Z4 GT3 but lost the chance after serving the penalty. Sergio Jimenez and Cacà Bueno from BMW Sports Trophy Team Brasil finished in fourth while the #6 Audi R8 LMS Ultra from Phoenix Racing rounded off the top five.
The next meeting of the Blancpain GT Series will be the 1000 km endurance race at Le Castellet in France from June 19 to 20.
Results: