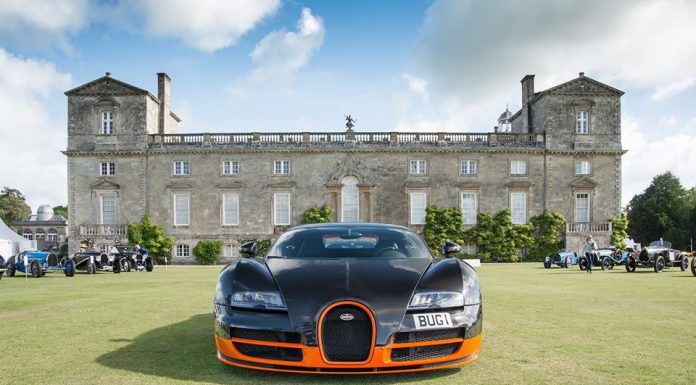 Wilton Classic and Supercar 2015 is finally here, showcasing the world's best classic and supercars all in one weekend. The show opened today but the GTspirit live coverage begins tomorrow which also happens to be the last day. Nevertheless, we plan to present it fully so you won't miss a thing! In this Live Blog we shall include coverage from the Wilton House premises as well as the exhilarating drive to Wilton House.
There is an array of exhibitors for this year's edition starting with McLaren Automotive who are celebrating the 20th anniversary of their 1995 Le Mans 24 Hours win. Bugatti is showcasing a lineup of past and modern supercars including a 1926 Type 41 Royale, a 1931 Type 54 Grand Prix car, a 1946 Bugatti Type 73 C and more. We have already glimpsed at a few photos from today which include McLaren F1 GTRs, Bugatti Veyron's, Aston Martin model lineup, Castrol UK racecar lineup and more. To give you an idea of what Sunday looks like at Wilton House, check the gallery below from our 2014 Wilton House coverage.
Sunday is a Supercar day or what you would call Supercar Sunday where more than 150 supercars will be displayed on the beautiful lawns. The show opens at 9 am before the 1st Bold and Dogs Performance kicks off in the arena. In between the day there will be live music, supercar commentary and prize giving as well. The show will end with an exit parade of supercars – a great scene to look forward to!
Below are select photos from Saturday's coverage via Wilton House and Evo Magazine. Our coverage goes live tomorrow at 5:00am UK time. We shall be in the yellow Pagani Huayra which you might have seen driving around London in the past couple of days. Our convoy will have a Lamborghini Aventador Roadster, a Ferrari 458 Italia, two Porsche 911 Turbo's, a TVR Sagaris and more. Don't forget to check our Instagram, Twitter and Facebook for more mobile coverage!
Wilton House 2015 Live Blog
Update: Sunday June 7 – 2:09 pm
We're sitting down for afternoon tea here at Wilton House. It has been a morning to remember packed with glorious classics and jaw-dropping supercars. There are no less than five Bugatti Veyrons featuring on the main lawn surrounded by sensationally valuable classics. We parked the Huayra in a small enclosure surrounded by the likes of a Koenigsegg One:1, LaFerrari, McLaren P1 and Porsche 918, quite the spectacle.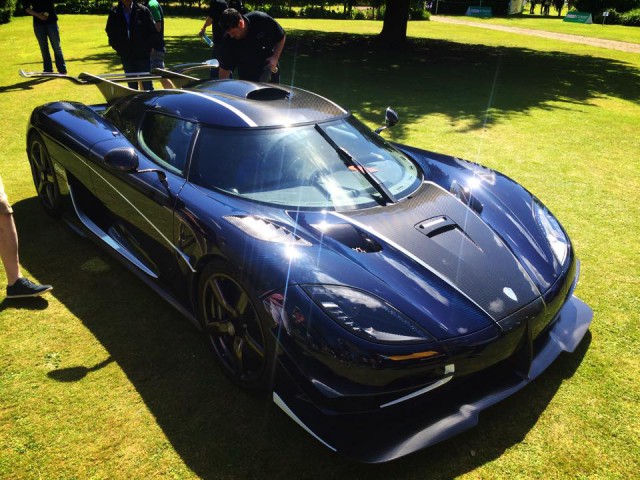 We then proceeded to start the parade where we were drove up the infamous drive flanked by thousands of spectators cheering and taking photographs. We ascended the stage where Tiff Needel quizzed us on the Huayra. We'll be back with more from Wilton House Classic and Supercar 2015 so stay tuned!
Update: Sunday June 7 – 1:57 pm
Our live coverage from Wilton House Classic and Supercars continues as we witness a really spectacular lineup of modern and past supercars. The mighty Koenigsegg One:1 is now present, the 1 of 7 hypercar was even opened up properly for the public to view its interior as well as the engine bay. The McLaren P1 GTR continues to wow many alongside its forefathers – the McLaren F1 GTR's.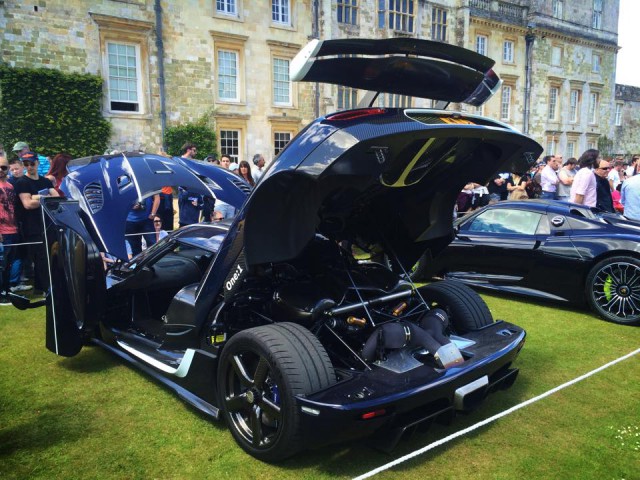 Update: Sunday June 7 – 11:39 am
More live photos from the Wilton House Classic and Supercars 2015 featuring the Ferrari LaFerrari, Aston Martin Jet 2+2 by Bertone, Porsche 918 Spyder, a Bentley Continental GT3-R (1 of 300) and more. The yellow Pagani Huayra which drove us here is also shining bright on the lawn, a couple of foreign cars are also part of the Supercar Sunday show led by a bright blue Nissan Skyline GT-R R34.
Update: Sunday June 7 – 09:23 am
Take a look at this beautiful shot by GF Williams of the two McLaren F1 cars driven by Ayrton Senna and Alain Prost. These are the same cars from 1990 Japanese Grand Prix crash reunited for the first time here at Wilton House Classic and Supercars 2015.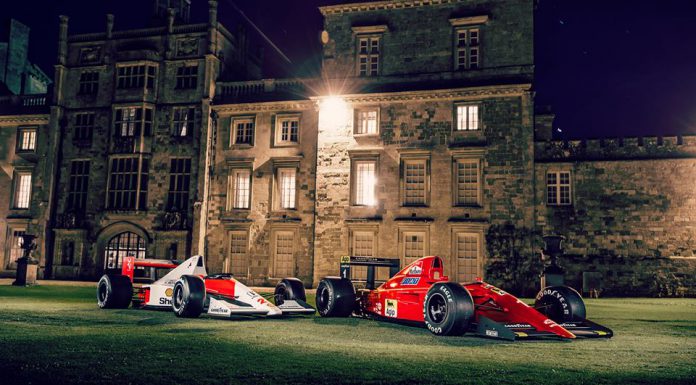 Another great shot by GF Williams of the McLaren P1 GTR on display at the Wilton House Classic and Supercars 2015! Check out his Instagram for more of these photos from Wilton House 2015!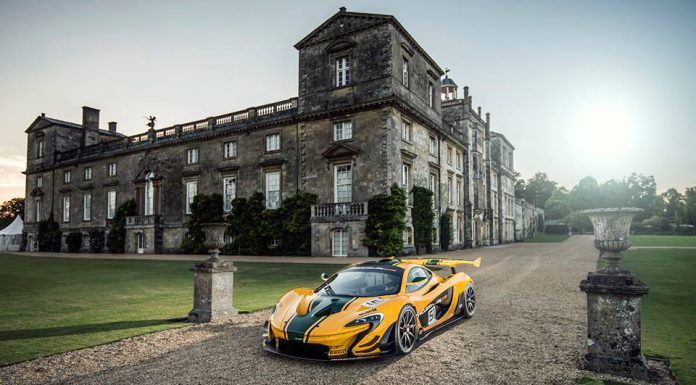 Update: Sunday June 7 – 08:55 am
We have arrived at the Wilton House premises where supercars are beautifully arranged on the green lawns. Supercar Sunday is officially on – first we stopped at the McLaren Automotive section where the McLaren P1 GTR stands firmly surrounded by other new models including the 675 LT and 570S. As stated earlier, Bugatti is representing its full house from modern models to past models. More to follow so keep on checking back for fresh updates!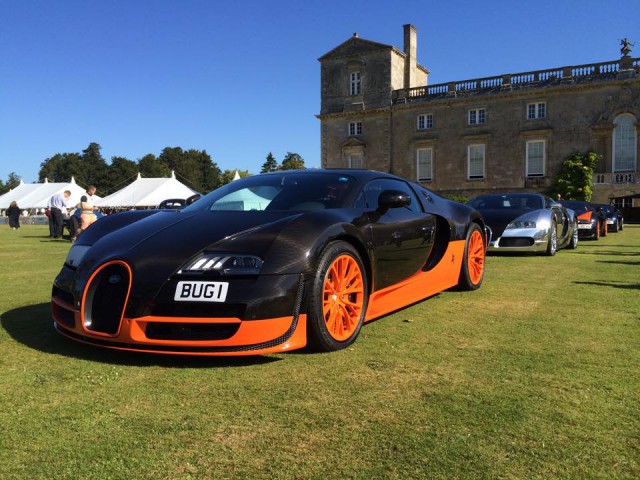 Update: Sunday June 7 – 08:07 am
We are on the road to Wilton Classic and Supercar 2015 and its Supercar Sunday!. We are riding shotgun in a stunning yellow Pagani Huayra. We've been cruising with a beautiful green Nissan GT-R packing 800 horsepower and Lamborghini Aventador Roadster which has proved to be great fun. We have learnt that in any gear the Huayra is a savage machine, once the turbos spool (producing the most spectacular sound) you sink into the cars sculpted carbon seats. We'll be back with an update and live pics from the show so stay tuned!