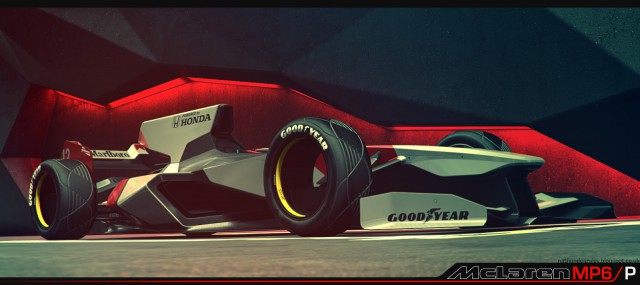 What will Formula One cars look like in 2056? Well, no one really knows. It isn't even assured that the sport will still be running some 41 years from now. Nevertheless, skilled designer Nathan Dearsley has decided to imagine how a McLaren-Honda branded F1 car could look in 2056.
Dubbed the MP6/P, the McLaren Formula One racer has been rendered to provide maximum performance in a classic McLaren-Honda design. With that being said, the car's shape is dramatically different to existing F1 cars.
Generally speaking, it features much sharper lines with almost no curves visible. The side pods for example are characterised by aggressive and angular shapes while the main roof scoop is rectangular. Intricate front and rear wings have also been installed as have wide tyres complete with interestingly shaped tread.
Dearsley has even gone to the trouble of designing the aggressive cockpit of the McLaren-Honda MP6/P as well as its range of lightweight and strong carbon fibre elements.