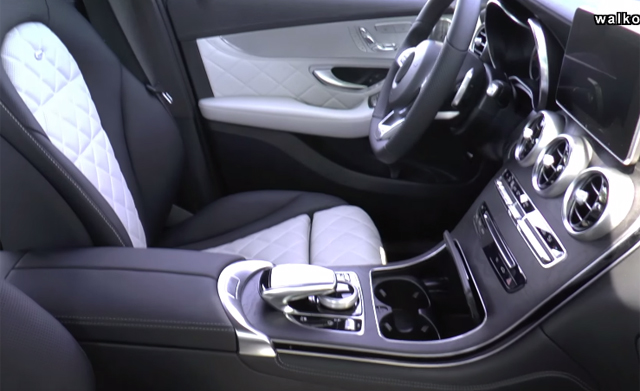 A spy video has just emerged showing a fleet of barely disguised Mercedes-Benz GLC prototypes near one of the German firm's various facilities. Most importantly, the test mules didn't feature any camouflage in the cabin therefore giving us an unadulterated view at the heavily revised cabin of Mercedes-Benz's latest SUV.
[youtube]https://www.youtube.com/watch?v=LWcJd7vQRUs[/youtube]
Generally speaking, the interior of the Mercedes-Benz GLC is very similar to the inside of the W205-generation C-Class. Of course, this isn't surprising considering it shares its engines and platform with the C-Class. As such, a flowing centre console and dashboard is found as well as the firm's COMAND infotainment system screen sitting atop the dash.
Beyond the interior, the 2016 GLC will be slightly larger than the GLK due to the addition of the compact GLA to Mercedes' crossover lineup. Previously spied prototypes have appeared to have slightly longer wheelbases, along with longer hoods and pushed forward front axles. Obviously, these changes will result in additional interior and trunk space, and should also improve driving dynamics.
As the GLC will share its underpinnings with the C-Class, we're familiar with the engines that will be offered. Specifically, a 1.8-liter turbocharged four-cylinder engine will serve as the powerplant in the GLC 250, while the GLK's 2.1-liter diesel will be employed in the GLC 250 BlueTec. A V6 will likely remain under the bonnet of the GLC 350, however it's still not clear if an AMG model is in the works.