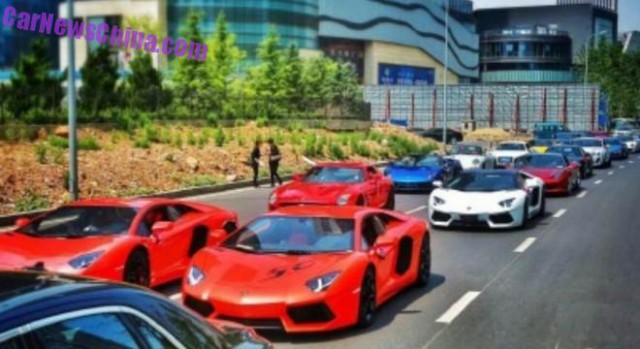 In the past, we've seen a plethora of truly crazy weddings all around the world where supercars have turned out in their droves. The following supercar wedding in China however, could just be the most impressive yet.
Held in the city of in Liaoning Province, the wedding attracted over 30 high-priced exotics many of which participated in the official wedding motorcade. A white Rolls-Royce Phantom led the pack and chauffeured the just-married couple and it was flanked by a range of other Phantoms, no less than four black examples in fact.
Additionally, a host of Rolls-Royce Ghosts were included in the wedding party as were two Arancio Argos Lamborghini Aventadors and a white Aventador Roadster. Other highlights included a red Mercedes-Benz SLS AMG, Ferrari 458 Italia, a blue Lamborghini Gallardo LP540-4 Spyder, two Audi R8s, a Bentley Continental Supersport and a handful of Porsche 911s.
It is believed that the groom owns a BMW i8, Lamborghini Gallardo Spyder, Range Rover Sport as well as a speedboat.
The city of Dalian itself is the southernmost city of Northeast China and the second largest city in Liaoning Province. The city's economy is the eighth strongest in China.
[Via Car News China]