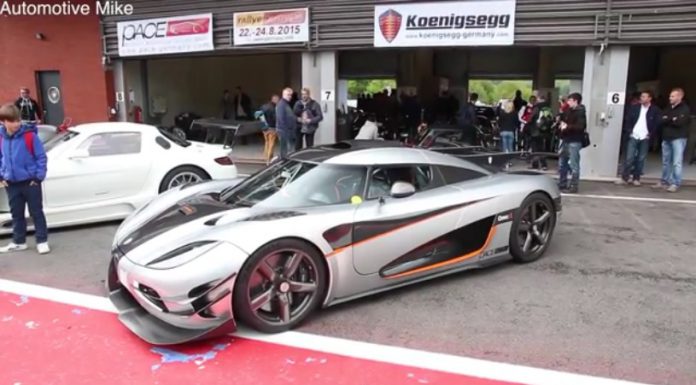 Fresh off its duties at Suzuka, Koenigsegg's own factory One:1 recently hit one of Europe's most famous race tracks, Spa Francorchamps. As if seeing the Swedish hypercar on the legendary circuit wasn't enough for all those in attendance, Formula One driver Adrian Sutil got behind the wheel!
While the One:1 didn't set an official lap time at the circuit, this is just the latest in a number of track day outings for the car. Last year, Koenigsegg announced plans to attempt a new production car lap record at the Nurburgring with the One:1 this year but so far, that has yet to materialise. Nevertheless, the car certainly has enough performance on paper to smash numerous production car records at racetracks around the world.
[youtube]http://www.youtube.com/watch?v=8Bi-ZGx43eI[/youtube]
Beneath the skin, the Koenigsegg One:1's twin-turbocharged V8 delivers 1341 hp and 1371 Nm of torque. When combined with an overall weight of just 1341 kg, the One:1 features a perfect 1 hp to 1 kg power to weight ratio. The only other production car to achieve such a figure is the Hennessey Venom GT.
The Koenigsegg One:1 is expected to reach speeds in excess of 450 km/h so aerodynamics are key to the One:1 package. Thanks to the new front facia and the Le Mans prototype inspired rear wing, downforce at 260 km/h is equal to 610 kg whilst at 440km/h, the One:1 develops 830 kg. The One:1 is able to pull 2G's of force in the corners!