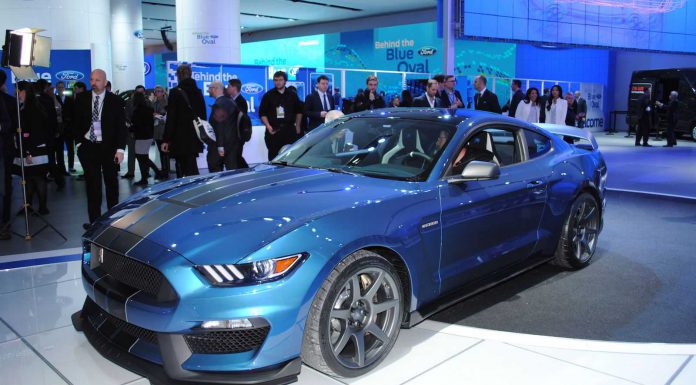 Just after official engine specifications about the Ford Mustang Shelby GT350 and GT350R were released, a new clip of the two models on the track has been released. While it may only run for less than 2-minutes, the video offers us our best chance to hear the burbling V8 thus far and boy, has it been worth the wait.
[youtube]https://www.youtube.com/watch?v=GvCdoEfYXao#t=62[/youtube]
Pretty much any high-performance naturally-aspirated V8 engine sounds good but the new Shelby GT350 and GT350R take it to an entirely different levels. This is thanks in part to the flat-plane crankshaft featured on both cars as well as the fact that the 5.2-litre's redline sits at a sky-high 8250 rpm!
That engine just so happens to be the most power dense and powerful naturally aspirated road engine ever produced by Ford. It delivers a total of 526 hp and 429 lb-ft of torque. That horsepower figure means that this engine delivers 102 hp per litre of displacement. Peak power is reached at 7500 rpm while maximum torque is found at a lower 4750 rpm. Interestingly, 90 per cent of torque is available from 3450 rpm to 7000 rpm.
Another key element of the engine is its use of an 87 millimetre throttle body, which just so happens to be the largest ever used on a Ford engine. In both the Mustang GT350 and GT350R, this engine is mated to a six-speed Tremec manual transmission.