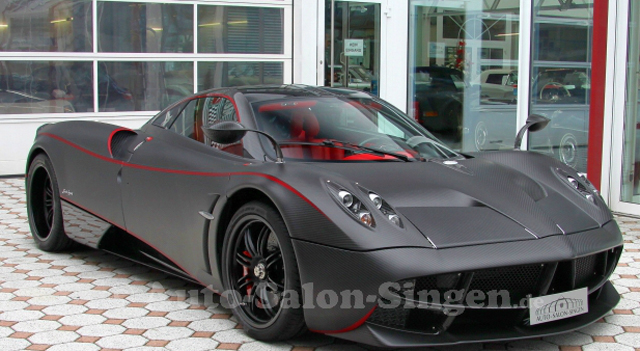 Auto Salon Singen, one of the world's best exotic car dealerships, currently has a unique and exceptionally eye-catching Pagani Huayra up for sale. A 2014 model, this Huayra is unlike any other and has covered a mere 1000 km. Consequently, its 1.9 million euro sticker price isn't all that surprising.
What makes this Pagani Huayra so special is its exterior finish. On first glance, its body appears to be painted primarily in matte black. On closer inspection however, it is actually bare carbon fibre with a matte finish therefore making this Huayra unlike any other produced. The matte carbon is found across the entire front end as well as the doors and rear end. The only exterior elements which aren't matte carbon are the roof, side skirts, taillight clusters and rear bumper/diffuser which instead feature a glossy carbon finish.
Completing the exterior look is matte red pinstriping and accents as well as matte black wheels and bright red brake calipers. Unsurprisingly, the interior of this Pagani Huayra directly reflects the exterior. Consequently, it features exceptionally bright leather across the seats, steering wheel and dashboard as well as a range of gloss carbon fibre elements like the dashboard, instrument cluster and transmission tunnel.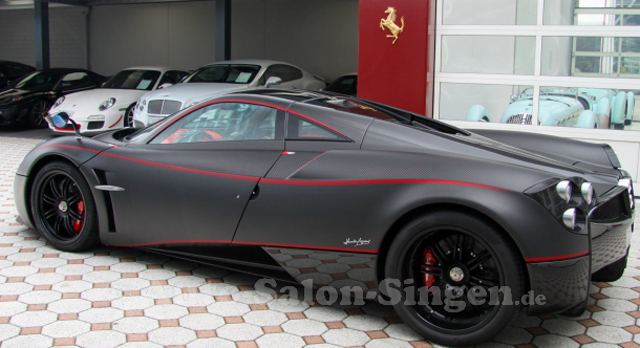 All of the aforementioned parts combine to unmistakeably make this one of the finest Huayras ever produced.