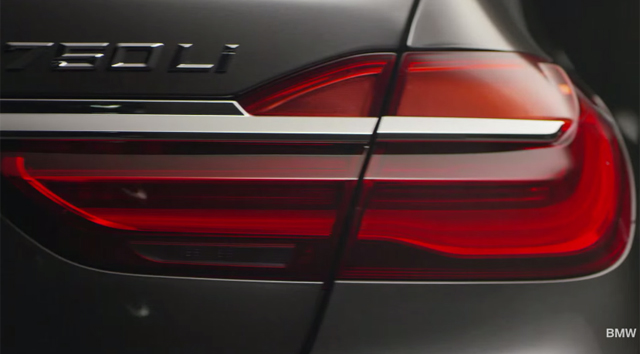 A teaser video of the next-generation BMW 7-Series has just been released alongside confirmation that the car will debut on June 10th. While we already know what the car will look like thanks to a prototype previously being spied without any camouflage, the teaser does reveal some new details about the car.
[youtube]https://www.youtube.com/watch?v=3hnYf-Xvmss[/youtube]
For starters, it features a special carbon core badge which refers to the carbon fibre used throughout the chassis of the new 7-Series. Additionally, the car features a roof combining aluminium and carbon fibre to keep the vehicle's centre of gravity as low as possible. All told, the new 7-Series will tip the scales at up to 130 kg less than the current car depending on specification.
Some of those chassis tweaks include the fitment of two-axle air suspension complete with a self-levelling system as standard. Additionally, Dynamic Damper Control is featured while an improved version of the German automaker's Integral Active Steering system also makes its debut on the new 7-Series. Elsewhere, an electromechanically driven Dynamic Drive roll stabilisation system has been installed.
Engine wise, the latest generation BMW 7-Series will be offered with a selection of new engines with confirmation about an inline-six cylinder already being given. Additionally, four-cylinder, V8s and V12s are also expected. All of the engines available will be mated to a smooth shifting eight-speed Steptronic transmission.
Moreover, the new BMW 7-Series incorporates a touch display for its iDrive monitor which is a first for the firm. Alongside the inclusion of touch technology, the iDrive monitor also includes gesture control. A fully digital instrument panel is also featured despite a recent image showing a half analog and half digital gauge cluster.