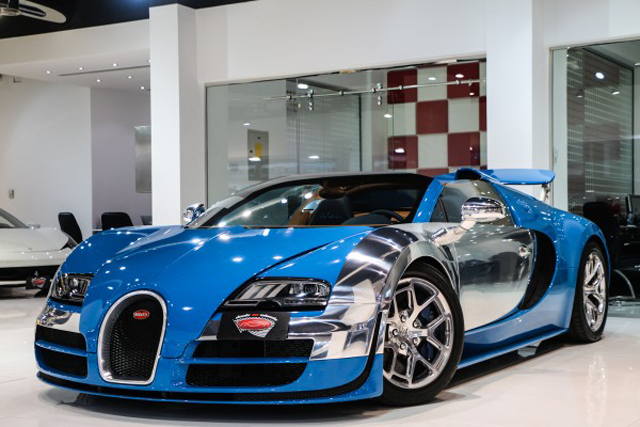 Deals on Wheels in Dubai currently has up for sale one of just three Bugatti Veyron Grand Sport Vitesse Meo Costantini editions up for sale. The Meo Constanini was created as the third model in the six-part Veyron Legends series and debuted in late 2013.
As the name implies, the car was created to pay homage to Meo Costantini who was a close friend of Ettore Bugatti and the head of Bugatti's factory race team. As with all other Legend edition Veyrons, it is based around the world's fastest convertible, the Vitesse, and this one features an asking price of $2.7 million USD (9.9 million AED).
Somewhat surprisingly, it has driven 4800 km and in its time on the streets, doesn't seem to have been spotted at any stage. What makes that fact all the more eye-opening is just how bright the Veyron Vitesse Meo Costantini is. It combines bright blue across much of the body as well as a number of high-gloss chrome elements like the doors and wing mirrors. The interior then combines black and dark brown leather as well as bright blue contrast stitching.
Beyond the unique interior and exterior, the Veyron Vitesse Meo Costantini remains mechanically identical to all other Vitesse models. Consequently, its quad-turbocharged 8.0-litre W16 engine delivers 1200 hp between 3000 and 5000 rpm as well as 1500 Nm of torque. As a result, 100 km/h passes in a brisk 2.6 seconds.