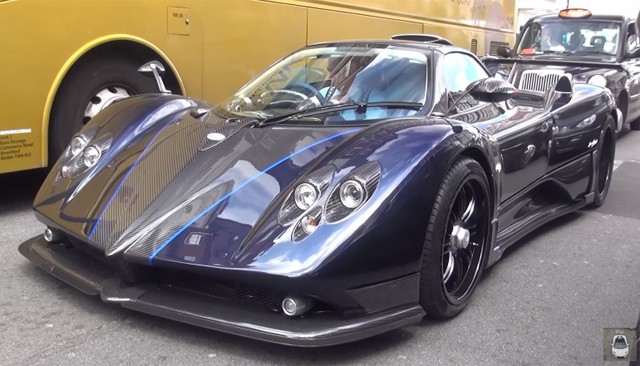 The one-off Pagani Zonda 760VR Roadster has just been filmed on the streets of London for the very first time. The 760VR is just the second convertible in the 760-series of Zondas and actually started out life as a Zonda F Roadster before recently being transformed into 760-spec.
[youtube]https://www.youtube.com/watch?v=pXwAbxqX5VY[/youtube]
For starters, the 760VR Roadster features most of the new visual and aerodynamic features of other Zonda 760 models. As a result, it features a new front-end, a towering rear wing and an exceptionally aggressive rear diffuser. It also features a similar roof scoop and decklid air intakes to the Zonda Cinque and the 760's now trademark rear fin. Interestingly however, it doesn't feature the flared wheel arches like other Zonda 760s.
Beyond these elements, the Pagani Zonda 760VR Roadster features matte black wheels and a dark blue paint job combining bright blue and carbon fibre accents.