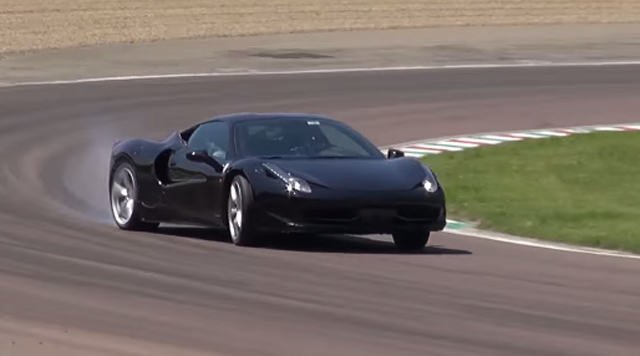 While the Ferrari 488 GTB may have been unveiled at March's Geneva Motor Show, the Italian marque is continuing to furiously test and develop its new sports car. Recently, a test mule was filmed undergoing flat-out testing at the Fiorano test track disguised as a Ferrari 458 Italia.
While the black prototype in question features the body of a 458, there are a few tell-tail design differences which reveal its true identity. For example, it includes massive air intakes feeding the new twin-turbocharged V8 engine. Additionally, the rear-end features a different exhaust set up to the outgoing 458 Italia.
[youtube]https://www.youtube.com/watch?v=qYl_2g2dCio[/youtube]
Of course, the most obvious point of difference between this tester and a standard 458 is its engine and exhaust note. As a result, it is apparent that it has been installed with the 488 GTB's brand new 3.9-litre twin-turbocharged V8 engine. As a result, it provides us with our best chance to hear the new engine thus far.
In case you didn't know, that new engine is significantly more powerful than the naturally-aspirated 4.5-litre V8 used by the outgoing Ferrari 458 Italia. As a matter of fact, the Ferrari 488 GTB delivers 660 hp at 8000 rpm as well as 560 lb-ft of torque at 3000 rpm. Incredibly, torque from this engine is also higher than the 509 lb-ft of the 6.0-litre V12 found in the Ferrari F12 Berlinetta.
Mated to the twin-turbocharged 3.9-litre V8 is a tweaked variant of the 458 Italia's seven-speed dual-clutch transmission driving the rear wheels. The gear ratios have been modified to improve acceleration throughout the rev range. When it is all said and done, the Ferrari 488 GTB will sprint to 100 km/h in 3 seconds flat, 200 km/h in a mere 8.4 seconds as well as a 334 km/h (208 mph) top speed. Those figures are almost identical to the 642 hp McLaren 650S which hits 100 km/h in the same time, 200 km/h in 8.5 seconds and a 333 km/h (207 mph) top speed.