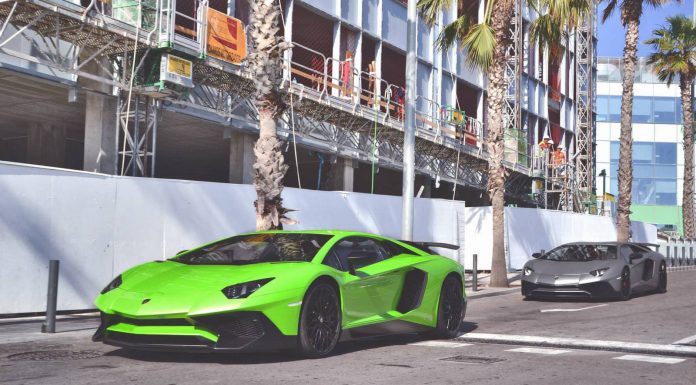 The Lamborghini Aventador shocked the world where first unveiled for looking like no other supercar on the market. When the SV variant was first shown to the world in 2015 it shocked yet again, particularly with its blistering performance figures. Seeing such a beast in the wild would be a rare and special occasion, unless you happened to be in Barcelona recently where a number of SVs were recently spotted around the Lamborghini showroom.
As a reminder, the Lamborghini Aventador LP750-4 SV's 6.5-litre V12 engine gets a modest power boost of 50 hp together with a weight reduction of 50 kg. The top speed is now 350 km/h and the 0-100 km/h time drops, as mentioned, from 2.9 seconds to 2.8 seconds. Torque remains at 507 lb-ft at 5,500 rpm and peak rpm rises to 8,500 rpm.
The aforementioned weight reduction is achieved through the use of carbon fibre for parts including the engine bay cover, rear wing, wing panels, interior door panels, bucket sports seats and air intakes. Carpets and noise insulation have also been taken out, as has the multimedia system which can be put back in at no extra cost.