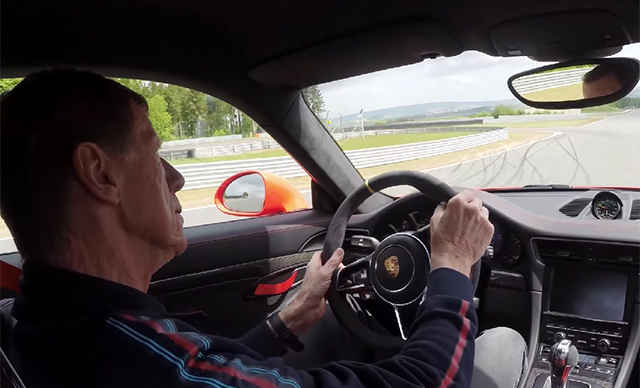 There is arguably no driver in the world as skilled and familiar with driving Porsches than the marque's senior test driver, Walter Rohrl. Not only does Rohrl have years of experience behind the wheels of the automaker's finest models, but he also had a very successful rally career in the Group B era with Audi.
So when the German was recently handed the keys to the brand new 2016 Porsche 911 GT3 RS, it was inevitably that he wouldn't hold back and drive the sports car to its absolute limits. Throughout the clip, the ease at which Rohrl piloted the potent 911 GT3 RS is arguably the most impressive part. What's more, he manages to drive the car at its absolute limits without crossing them and kicking out the car's rear-end.
[youtube]https://www.youtube.com/watch?v=QTfNOMlQiRQ[/youtube]
The 2016 Porsche 911 GT3 RS of course uses a brand new 4.0-litre six-cylinder engine which remains naturally aspirated. It has been tuned to deliver 493 hp (the same as the 997 GT3 RS 4.0) but now delivers 384 lb-ft of torque which is 15 lb-ft more than the GT3 RS 4.0. Additionally, these figures represent a 25 hp and 60 lb-ft increase over the current 911 GT3.
As always, the new Porsche 911 GT3 RS features rear wheel drive and the aforementioned six-cylinder engine is coupled to a seven-speed dual-clutch PDK transmission. As a result, the German sports car will accelerate to 100 km/h in a mere 3.3 seconds and crack the 200 km/h mark in just 10.9 seconds. By comparison, the old 911 GT3 RS needed 3.9 seconds to hit 100 km/h.