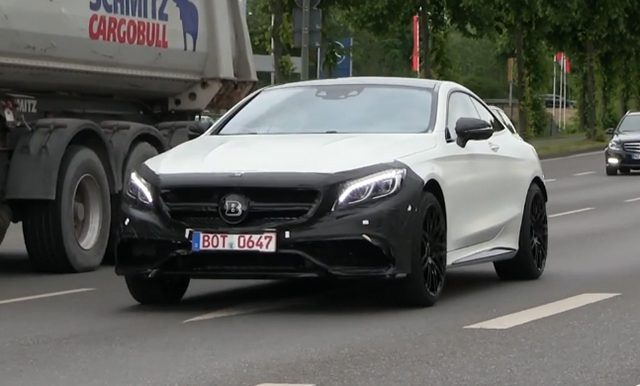 A prototype of the recently revealed Brabus 850 Mercedes-Benz S63 AMG Coupe has just been filmed in the midst of testing for the very first time.
Unlike many other aftermarket tuners, Brabus thoroughly tests and validates all of its performance, aerodynamic and visual modifications. The tuner has essentially reached the point of becoming the unofficial tuner for Mercedes-Benz after the AMG division so comprehensive and popular are its plethora of upgrades.
[youtube]https://www.youtube.com/watch?v=Lvq8uLNNWWM[/youtube]
To create the 850, Brabus fit a new crankshaft with a longer stroke plus an enlarged cylinder bore and correspondingly larger forged pistons. Displacement increases from 5.5 litres to 6.0 litres as a result. The turbochargers are also replaced with larger units with modified exhaust manifolds.
Special metal catalysts with 75-mm thick down pipes and a Brabus sports exhaust system help release a powerful new sound. Brabus also fit a new intake module and a Gold Heat Reflection sheathing for the intake and charge air pipes. Finally, a new ECU module provides new mappings for injection and ignition.
All of this modifications result in a total of 850 hp at 5400 rpm and 1450 Nm of torque between 2500 and 4500 rpm being produced.