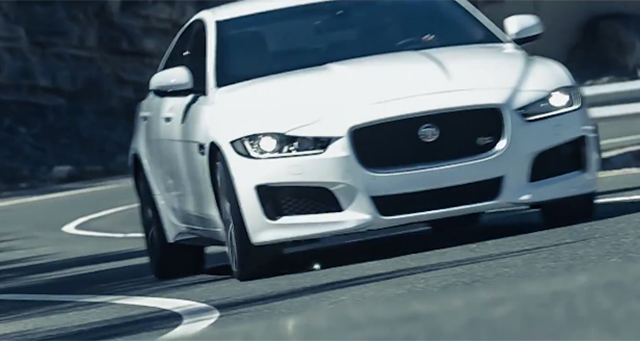 Designed to rival the Mercedes-Benz C-Class, BMW 3-Series and Audi A4 range, the Jaguar XE is one of the most important models recently launched from the British marque. Despite attempting to target three established German names in this highly-competitive market, the XE is shaping up to be worthy of its place in the industry. In order to get us even more amped for the car to hit the showroom, a new promo clip has been released.
[youtube]https://www.youtube.com/watch?v=8zBLXTgj_eo#t=50[/youtube]
Filmed in Northern Spain on some truly stunning driving roads, the British luxury sedan certainly looks comfortable when being pushed on the tight and twisty tarmac. In order for the XE to adequately rival the 3-Series, C-Class and A4, it needs lots of performance prowess.
As a reminder, the range-topping Jaguar XE S features a 3.0-litre supercharged V6 engine delivering 340 hp. This engine is the same as the one powering the Jaguar F-Type V6. A torque figure of 450 Nm allows a 0-96 km/h (60 mph) time of 4.9 seconds and an electronically limited top speed of 250 km/h. Mated to the engine is Jaguar Land Rover's eight-speed ZF transmission. Further down the road, it is speculated that a Jaguar XE SVR version will be offered to compete against the BMW M3 and Mercedes-AMG C63.