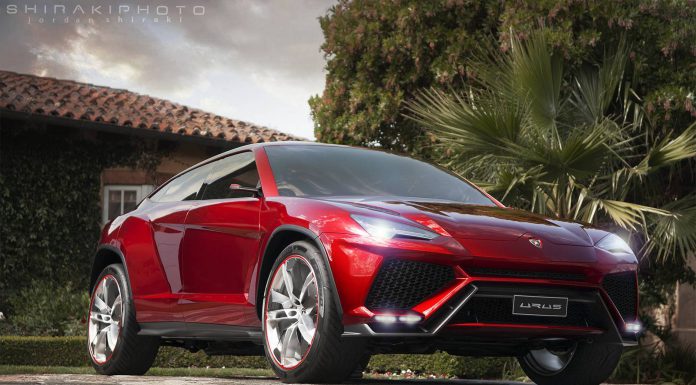 Lamborghini seems to have trialled every conceivable idea in its quest for a viable third model. Today we have received confirmation Lamborghini have given the green light for the production of an SUV. The Lamborghini Urus will apparently be available from as early as 2018 and will join the Lamborghini Huracan and Lamborghini Aventador.
The Italian SUV will have strong competition from other luxury brands. We are expecting to see a Bentley SUV this year which will go by the name "Bentayga". Maserati are also working on a similar SUV. Rolls-Royce has also confirmed it's working on a luxurious SUV.
Production of the new Lamborghini SUV will take place in Sant'Agata Bolognese thanks to a fresh injection of funds. The project will be backed by Volkswagen Group and supported by Lamborghini's shareholders, the Italian Ministry of Economic Development, Invitalia (Italian national agency for inward investments and economic development), Emilia Romagna Region, the Union Representatives and the existing Automobili Lamborghini team.
Lamborghini will increase the size of its current production floor from the current 80,000 square meters to approximately 150,000 square meters. The project will include the construction of new facilities, a new production line, warehousing and enlargement of the research and development department. Lamborghini also intends to hire 500 new employees.
Of course, this isn't the first time the Lamborghini SUV has been given the green light. Lamborghini first confirmed production back in 2013, however, the decision was vetoed by fellow Volkswagen Group executives at Audi. It seems as though the green light has now been given by Volkswagen Group and the Italian government with the necessary funds also secured.
As far as the car goes, don't expect something on the scale of the classic LM002. The new Lamborghini SUV will likely be built off the new Audi Q7 platform. Expect heavy revisions. Lamborghini's design teams have hinted that the car will feature active anti-roll, adaptive damping, variable ride height, torque vectoring and possibly, four-wheel-steering. Less about weight, more about driving dynamics. In terms of power, we suspect that the existing V12 unit would need to be heavily revised with turbochargers or hybrid technology to fit such a large car.
Automobili Lamborghini President and CEO Stephan Winkelmann said, "This is a proud moment for everybody in Lamborghini. The introduction of a third model line endorses the stable and sustainable growth of the company and signifies for us the beginning of a new era. The new SUV will be made in Sant'Agata Bolognese, demonstrating our committment to safeguarding the values of 'Made in Italy' worldwide."