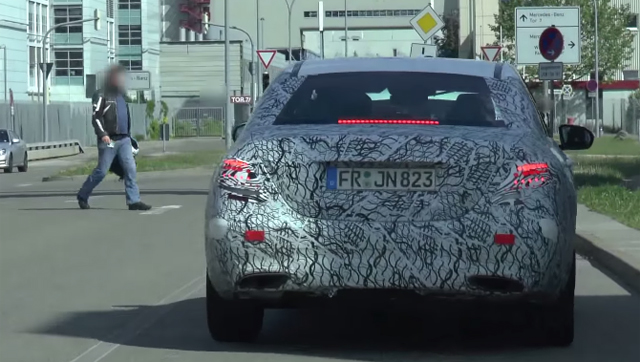 A couple of next-generation Mercedes-Benz E-Class prototypes have been spied testing outside the German marque's research and development facility in Germany. These E-Class test mules appear to feature slightly less camouflage than previously spied examples.
At the rear, it is clear that the 2018 E-Class will be installed with taillights baring similarities to those from the range-topping S-Class. Additionally, it features sleek dual exhaust pipes reminiscent of the Mercedes-Benz C-Class Estate. Also from a styling standpoint, the car will be adorned with new front and rear bumpers as well as a revised front grille and redesigned headlights.
[youtube]https://www.youtube.com/watch?v=5PUFI1NIdmY[/youtube]
It is suggested that the next-gen Mercedes-Benz E-Class will feature semi-autonomous driving functionalities and have the capacity to park itself remotely from the owner's smartphone. Additionally, the gesture control system being developed for the next S-Class will reportedly debut in the new E-Class. Elsewhere, an exceptionally advanced heads-up display system is likely to be made available for the next-gen E-Class to further distinguish it from its direct rival, the BMW 5-Series.
Beyond these new pieces of tech, Car Magazine says that three different plug-in hybrid variants of the new Mercedes-Benz E-Class will be offered. The first will utilise a 2.0-litre four-cylinder engine joined with an 82 hp electric motor. A 3.0-litre V6 combined with a 109 hp electric motor will also be offered while the third hybrid is expected to use a yet-unconfirmed diesel engine and electric motor pairing.
Elsewhere, the new Mercedes-Benz E-Class will mark the German firm's return to inline-six cylinder engines in favour of V6s (excluding the aforementioned V6 hybrid model). The inline-sixers will be offered in petrol and diesel forms with the first pinned to be a 2.9-litre diesel engine delivering 313 hp when combined with two turbochargers. An additional version of this engine will be offered with four turbochargers two of which will be electrically-driven units to improve efficiency.