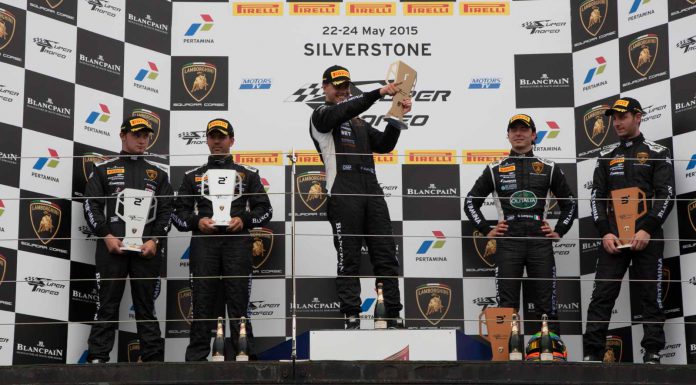 Silverstone played host to the second round of Lamborghini Blancpain Super Trofeo. With a grid of 29 Lamborghinis even though this was small in comparison to Monza where 60 cars took to the track, there was bound to be a lot of action for both of the races. After Monza, thec hampionship was being lead by Patrick Kujala. He dominated both races in round one and Silverstone was no different showcasing his potential and ability to dominate from the front.
Both races of the weekend were won by #32 Bonaldi Motorsport driven by Kujala who finished three seconds ahead of #9 Team Raton Racing driven by Liberati in race one and ten seconds ahead of #5 team Antonelli Motorsport driven by Mavlanov/Zampieri. This cemented an already competitive season for the 18 year old giving him four consecutive wins so far.
The track conditions for the second race were a little tricky when the rain was hit and miss across the duration of the race, which was a vast comparison to the dry race held the day before
Palmer and Bobbi in their #3 Bonaldi Motorsport Lamborghini won the Pro-Am class in race one and in race two the class win went to Swiss Adrian Amstutz who is part of team Konrad Motorsport and finished a very respectable sixth overall.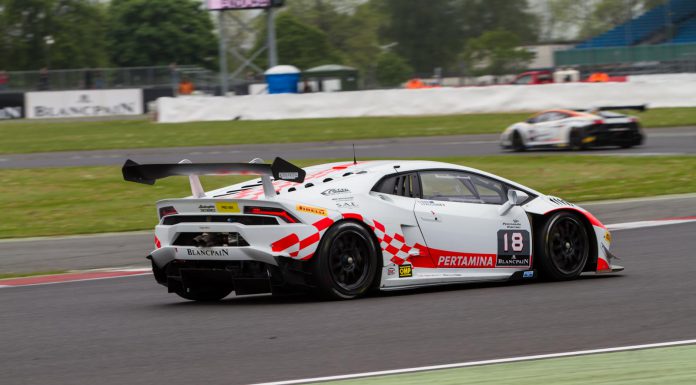 Our photographer Steven Roe captured Kujala take the trophy on the podium alongside Zampieri/Mavlanov who took second place and Campana/Crestani in third for race two.
The next round will be held at Paul Richard Circuit on 20th-21st June.
DRIVERS QUOTES– Race one
Patrick Kujala #32 – Bonaldi Motorsport (Overall and PRO class winner): "The last few laps were really difficult due to the lapped traffic. All the advantage I had built from the start almost disappeared in just a few laps. Anyway I am really satisfied in having captured my third straight victory."
Loris Spinelli #15 – Antonelli Motorsport (PRO-AM class winners): "Our weekend did not start in the best possible way despite an eight place overall in qualifying. At the start I decided to reduce the risks to a minimum and everything else went pretty well. Moscato also did a great job by delivering a solid second stint.
DRIVERS QUOTES– Race Two
Patrick Kujala #32 – Bonaldi Motorsport (Overall and PRO class winner): "I am happy, and I want to thank the team for their awesome job. The rain, that became steadier, made things more complicated than usual on some corners. I tried to maintain my stamina and avoid any mistake. I still do not think about the championship. I just want to do well race by race."
Adrian Amstutz #10 – Konrad Motorsport (PRO-AM class winner): "It has been a great win. I had to face some really complicated weather conditions. In some laps, you could push really hard, while in others you had to slow down due to the rain. In the end I made it to victory though, but I was also hit by another car after the checkered flag and my Hurácan got lots of damage. It has been a bittersweet day!"