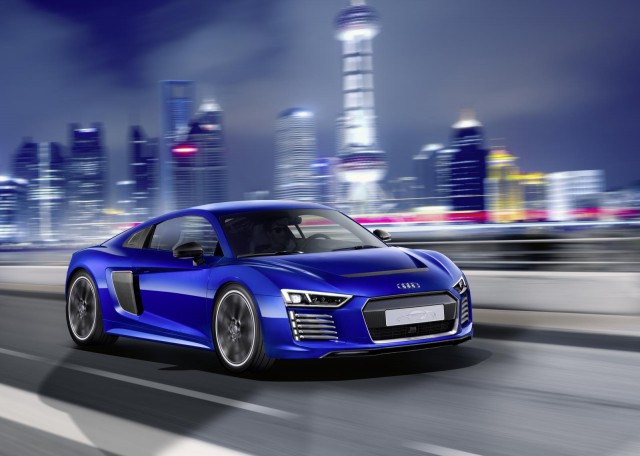 At CES Asia 2015 in Shanghai, the covers have just been taken off the Audi R8 e-tron Piloted Driving Concept. The car is evidently based around the recently revealed 2016 Audi R8 e-tron and combines the German marque's autonomous driving technologies already previewed on a number of concepts this year.
To allow for autonomous driving, the Audi R8 e-tron features a laser scanner, an array of video cameras, ultrasonic sensors and radar sensors at both the front and rear. After receiving signals from these components, the Central Driver Assistance Control Unit creates a virtual picture of the car's environment. Consequently, a selection of autonomous driving functions are offered but they've yet to be comprehensive detailed.
Beyond this advanced technology, the Audi R8 e-tron Piloted Driving Concept features all the same technologies as the production-spec car. As a result, it features two electric motors resulting in a combined 462 hp and 679 lb-ft of torque. As a result of that power and instant torque, the R8 e-tron will accelerate to 100 km/h in a brisk 3.9 seconds, just a few tenths off the R8 V10 and V10 Plus variants. Alongside the impressive acceleration, the Audi R8 e-tron features a range of 450 km which is over double what original R8 e-tron prototypes had.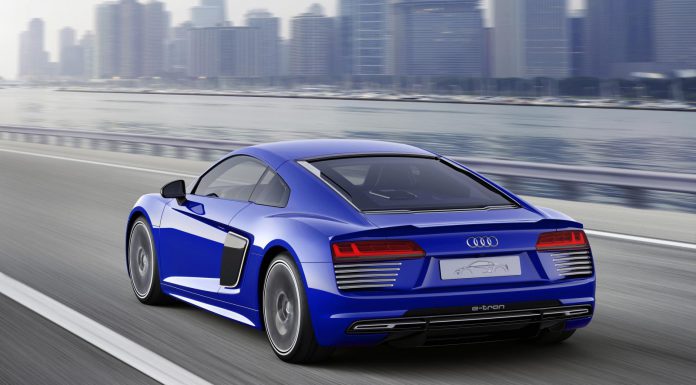 That extra range has been achieved through the installation of a larger battery pack now with a capacity of 92 kWh compared to 49 kWh. The battery is found within the centre tunnel of the electric sports car as well as behind the passenger cell. The aerodynamics of the R8 e-tron also play a key role in its range with it more efficient through the air than the traditional R8. As a matter of fact, its drag coefficient sits at just 0.28.