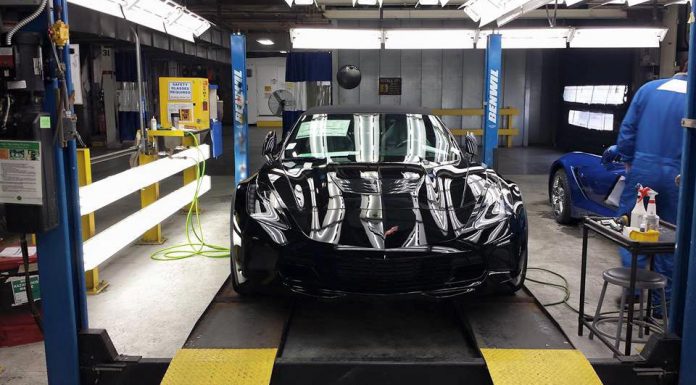 A selection of pictures of a Chevrolet Corvette Z06 Convertible rolling off the production line have emerged with this particular example apparently going to none other than General Motors chief Mary Barra.
The images reveal that Barra's Corvette Z06 Convertible hasn't been installed with the optional Z07 Aerodynamic Package adorning most C7-generation Z06 models. As a result, it makes do without an aggressive new front splitter, larger bootlid lip spoiler and custom side skirts. While the lack of the Z07 kit certainly results in a less menacing car, the gloss black wheels, black fabric roof and yellow brake calipers ensure this Z06 Convertible won't go unnoticed not just because of its driver.
In place of the Z07 kit, is the Stage 1 Aero Package and it is believed that the optional new eight-speed automatic transmission has been installed. Under the hood, the car of course features the same LT4 6.2-litre supercharged V8 engine delivering 650 hp and 650 lb-ft of torque. Just like the regular Corvette Stingray and Z06, the Z06 Convertible also utilises direct injection, Active Fuel Management (cylinder deactivation) and continuously variable valve timing.
However, the most impressive feature about the 2015 Chevrolet Corvette Z06 Convertible is its light curb weight. Traditionally, convertibles weigh significantly more than their coupe counterparts. Just look at the new M4 Convertible for example. It weighs over 250 kg more than the M4 Coupe! However, Chevrolet claims that the Z06 Convertible's curb weight is nearly identical to the coupe and that compared to the C6 Z06 Coupe, the aluminium structure of the Z06 Convertible is actually 20 per cent stiffer.
Considering that Barra's entire tenure as General Motors CEO has been plagued by the automaker's ongoing recalls, it's not surprising she decided to go all out on a new Corvette!