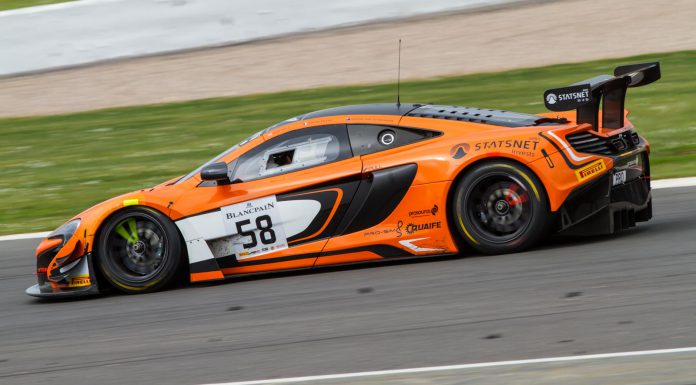 The second round of the Blancpain Endurance series headed into Silverstone over the May Bank holiday weekend 23-24 May.
After qualifying the pole position place was taken by #23 Nissan GT-R Nismo for team Nissan GT Academy driven by Chiyo, Reip and Buncombe. The other top four qualifiers were #333 Ferrari 458 Italia , #1 Audi R8 LMS Ultra, #58 Von Ryan Racing McLaren 650 S and finally #888 Triple Eight BMW Z4 driven by Ratcliffe and Mowle who currently also competes in the British GT.
The winners of the race were Von Ryan Racing in the #58 McLaren driven by Rob Bell, Shane Van Gisbergen and Kevin Estre. This win was special for the team as it was its Maiden Blancpain GT series win for the new McLaren 650S.
Before the race the Championship was being led by #1 Belgian Audi Club R8, who has extended their lead after securing second place at Silverstone. The last podium step was taken by No #3 Audi to give team Belgian Audi club a majority on the podium when celebrating the results of the weekend.
The Pro-Am category saw Wilson/Leonard/Meadows in the Leonard Motorsport Aston Martin take the victory ahead of #22 Nissan GT-R and #14 Jaguar in third.
Driver Quotes
Shane Van Gisbergen (#58 Von Ryan Racing McLaren): "The team made a great tactical choice. We knew we could do it, but it was still tough to save fuel and still keep a good lap time. I had a good run through the traffic, and did as many laps as possible. It is pretty exciting to win my first win in Europe and I already received the congratulations of my dad in New Zealand, even though it is 4 am over there."
Laurens Vanthoor (#1 Belgian Audi Club Team WRT R8): "Our goal this year is to win championships, so taking a win in the first race and finishing second here is not bad. At the beginning of my stint I did my best to catch the #75 Audi, but I knew that it would be very difficult to catch Kevin in the McLaren. They were the better team this weekend, had a better strategy and thoroughly deserve the win."
Stéphane Ortelli (#3 Belgian Audi Club Team WRT R8): "It was a tough final stint, but that is exactly what I like. The duel with the Nissan was nice and fair and I was happy I could get past, because they were quicker on the straights. This is an important podium for the team and it's a good feeling to share a podium finish with Frank (Stippler, ed.) for the first time in our careers, even though we have been racing for the same team for some years now."
Michael Meadows (#32 Leonard Motorsport Aston Martin): "It was pretty nerve wracking for us when Stuart was doing the final stint, being chased by Mardenborough. But he did exactly what he needed to do and drove a superb final stint. We had a very good race, a very clean race for once, and it paid dividends in the end."