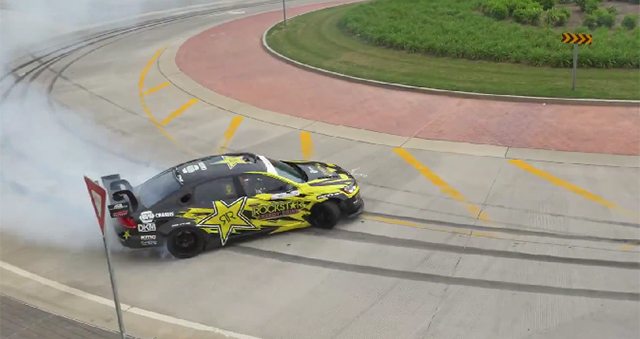 Recently unveiled for the 2015 Formula Drift series, Tanner Foust's 900 hp Volkswagen Passat drifter is insanity personified. Having already celebrated its competitive debut, Foust was recently given the call up by Volkswagen to take U.S. cycling champion Tim Johnson for a thrilling ride near the German marque's plant in Chattanooga.
The video is supposed to preview the USA Cycling Time Trials course but what it mainly does, is perfectly show off Foust's driving prowess as well as the impressive smoke-churning power slides his Passat can perform. You certainly won't see us complaining about that!
[youtube]https://www.youtube.com/watch?v=YAFP_bAVHCs[/youtube]
Beneath the skin, Foust's Volkswagen Passat drifter utilises a 450 cubic inch V8 engine delivering the aforementioned 900 hp. A nitrous oxide system has also been installed with it making for an additional 200 hp at the press of a button. Mated to that engine is a four-speed G-Force GSR transmission obviously driving the rear wheels where Nitto NT05 tyres send the power to the tarmac.
As you'd expect from a Formula Drift engine, the car also features a number of styling tweaks. Most significantly, it utilises a towering APR Performance rear wheel and a set of five-spoke black KMC wheels. Additionally, a bright yellow and black Rockstar Energy livery has been installed.