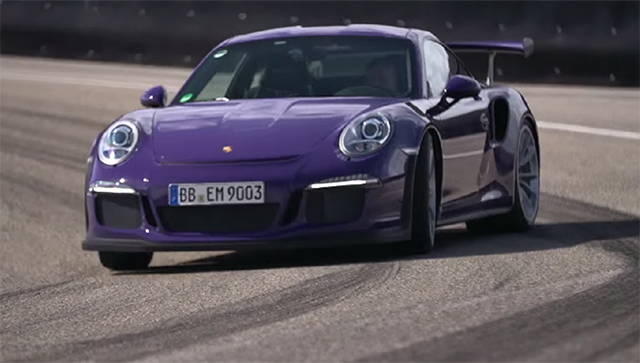 Chris Harris recently had the incredible chance to drive the brand new 2016 Porsche 911 GT3 RS both on the road and at the marque's Weissach proving ground. As a self-admitted 911 fans and a previous owner of a rare 911 GT3 RS 4.0, it is little surprise that the new GT3 RS leaves the British journo with a massive smile on his face!
[youtube]https://www.youtube.com/watch?v=-hTLk1rU_ZI[/youtube]
The 2016 Porsche 911 GT3 RS of course uses a brand new 4.0-litre six-cylinder engine which remains naturally aspirated. It has been tuned to deliver 493 hp (the same as the 997 GT3 RS 4.0) but now delivers 384 lb-ft of torque which is 15 lb-ft more than the GT3 RS 4.0. Additionally, these figures represent a 25 hp and 60 lb-ft increase over the current 911 GT3.
As always, the new Porsche 911 GT3 RS features rear wheel drive and the aforementioned six-cylinder engine is coupled to a seven-speed dual-clutch PDK transmission. As a result, the German sports car will accelerate to 100 km/h in a mere 3.3 seconds and crack the 200 km/h mark in just 10.9 seconds. By comparison, the old 911 GT3 RS needed 3.9 seconds to hit 100 km/h.