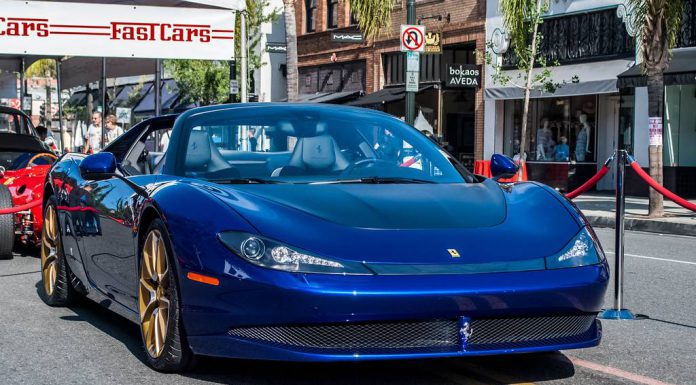 At Concorso Ferrari 2015 in California, one of just six production-spec Ferrari Sergios is currently on display. Finished in blue, this is actually just the second example we've seen after the first car was revealed late last year.
It's hard to say what specific shade of blue this Sergio has been painted in but it is joined with a set of gold wheels as well as a black front grille and a matte black section of the bonnet. The eye-catching decklid is also finished in matte black.
Compared to the original concept, the road-legal Ferrari Sergio for Pininfarina features a windscreen, a higher nose to pass pedestrian protection regulations as well as normal doors. Additionally, the interesting decklid of the original concept has been modified but is equally as head-turning. Elsewhere, the headlights and taillights are brand new for the production car.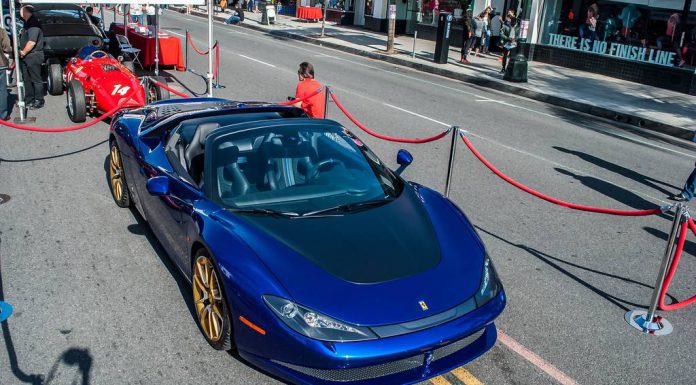 The Sergio is based around the Ferrari 458 Spider but uses the more powerful engine from the 458 Speciale A. This engine displaces 4.5-litres from its screaming, naturally-aspirated eight cylinders and consequently pumps out 597 hp which is enough to send the special Sergio model to 100 km/h in a mere three seconds.
[Via cncpics]