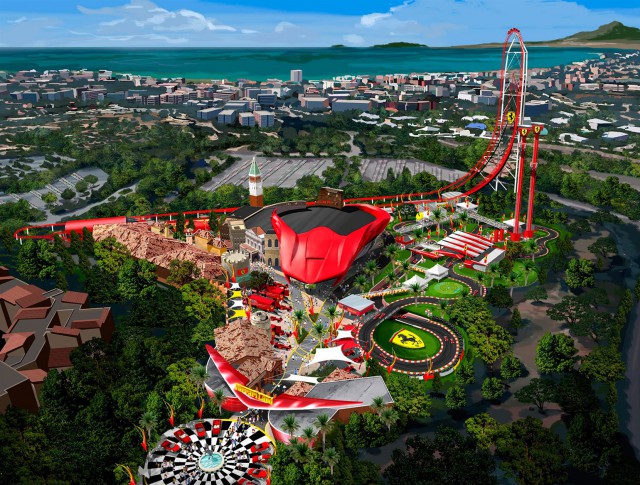 Italian automaker Ferrari is currently in the midst of creating its second theme park. Officially dubbed Ferrari Land, the facility will open for operation in 2016 and also feature the first Ferrari-themed hotel anywhere in the world.
Ferrari Land is being built at PortAventura which already exists as a luxurious holiday resort south of Barcelona. It is hoped that the addition of Ferrari Land will dramatically boost tourist numbers in the area which already sees 4 million visitors every year. Specific details about the attractions at Ferrari Land remain scarce but it is tipped to feature Europe's fastest and highest vertical accelerator.
Discussing Ferrari Land, the automaker's Formula One team principal, Maurizio Arrivabene said "Ferrari Land is a project that surely offers the opportunity to bring the Ferrari allure to Spain where there are a lot of supporters and fans. 'm sure Ferrari Land will further strengthen the Ferrari brand in the region, because it's not only a project for Formula One supporters but for everybody. They will love it."
At the PortAventura, a turf-cutting ceremony for Ferrari Land was held with Formula One driver Sebastian Vettel making an appearance. He came baring a piston from his 2014 Red Bull F1 car alongside a brick from Enzo Ferrari's old house set to be utilised at a monument at the theme park.
[Via Car Magazine]