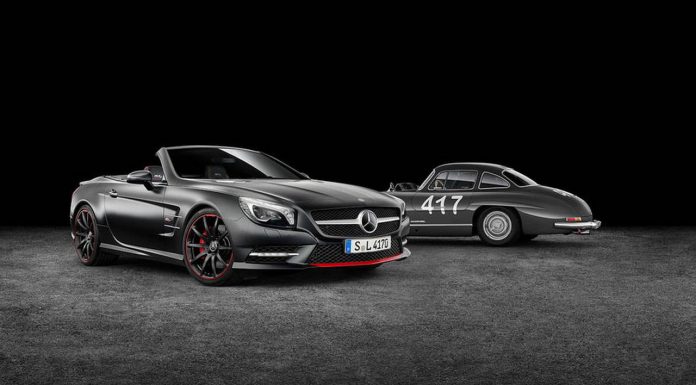 Having previewed the Mille Miglia 2015 event already, its time to introduce the GTspirit tour car for this momentous rally that kicks off later today. The car in subject is a 2015 Mercedes-Benz SL 417 Mille Miglia Edition, introduced earlier this year to celebrate the victory of a Mercedes-Benz 300 SL in the 1955 Mille Miglia. The number "417" was the same number on the winning car, meaning that it started the rally at 4:17am from Brescia to Rome and back. Noteworthy, Stirling Moss won the rally that year in a Mercedes-Benz 300 SLR.
Visually, the 2015 Mercedes-Benz SL 417 Mille Miglia Edition bears red accents on the front and rear lip spoilers and red brake calipers as well. There are "SL Mille Miglia" labels on the leather seats and "1000 Miglia" labels on the floor mats. The SL 417 Mille Miglia comes standard with the magnetite black metallic paint finish but can be ordered with either designo night black magno and designo cashmere white magno matte paint finishes or designo diamond white finishes. Order books were opened on 7th April.
As for the trims, the SL 417 Mille Miglia is available in either SL 400 or SL 500 guise with an additional price tag of EUR 14,800 and EUR 12,800 respectively. The SL 400 Mille Miglia houses a 6-cylinder engine rated at 333hp while the SL 500 Mille Miglia packs more power at 455hp from the V8 engine. Mercedes-Benz has brought several SL 417 Mille Miglia cars to this years rally which will be driven by a few of their bosses including the SL product manager.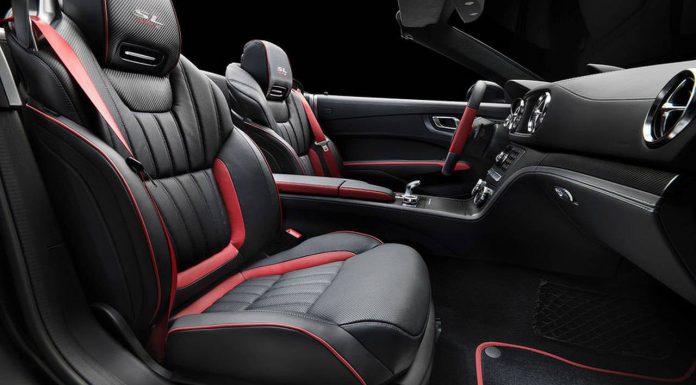 Other Mercedes-Benz personnel including board members will drive the legendary 300 SL – we counted 15 300 SLs so far. Following the schedule, we are to hold a warm up event in Brescia this afternoon ahead of the official kick-off tomorrow. Our first stop will be Riccione before embarking on the journey to Rome. Stay with us as we make history together with 400 plus other participants in the 2015 Mille Miglia.