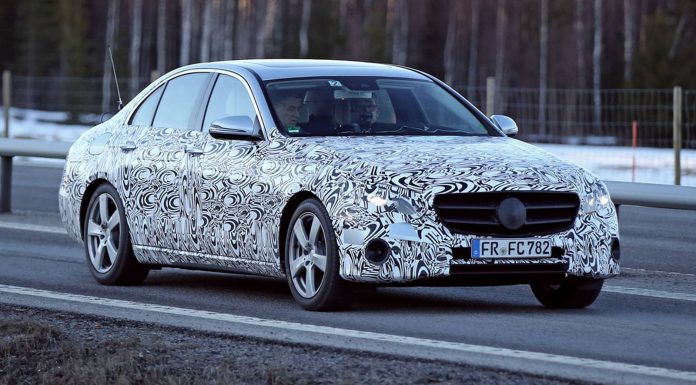 According to new reports, the next-generation 2017 Mercedes-Benz E-Class will celebrate its world debut at the Detroit Motor Show 2016 in January. The new E-Class will directly rival the next-generation variants of the BMW 5-Series and the new Audi A6 range.
It is suggested that the next-gen Mercedes-Benz E-Class will feature semi-autonomous driving functionalities and have the capacity to park itself remotely from the owner's smartphone. Additionally, the gesture control system being developed for the next S-Class will reportedly debut in the new E-Class. Elsewhere, an exceptionally advanced heads-up display system is likely to be made available for the next-gen E-Class to further distinguish it from its direct rival, the BMW 5-Series.
Beyond these new pieces of tech, Car Magazine says that three different plug-in hybrid variants of the new Mercedes-Benz E-Class will be offered. The first will utilise a 2.0-litre four-cylinder engine joined with an 82 hp electric motor. A 3.0-litre V6 combined with a 109 hp electric motor will also be offered while the third hybrid is expected to use a yet-unconfirmed diesel engine and electric motor pairing.
Elsewhere, the new Mercedes-Benz E-Class will mark the German firm's return to inline-six cylinder engines in favour of V6s (excluding the aforementioned V6 hybrid model). The inline-sixers will be offered in petrol and diesel forms with the first pinned to be a 2.9-litre diesel engine delivering 313 hp when combined with two turbochargers. An additional version of this engine will be offered with four turbochargers two of which will be electrically-driven units to improve efficiency.
Underpinning the new E-Class will be the same shared MRA platform as the new C-Class. This new platform is not only lighter than the one currently used by the E-Class, but it is also more rigid thanks to its utilisation of aluminium in its construction.
[Via Mercedes-Benz Passion]