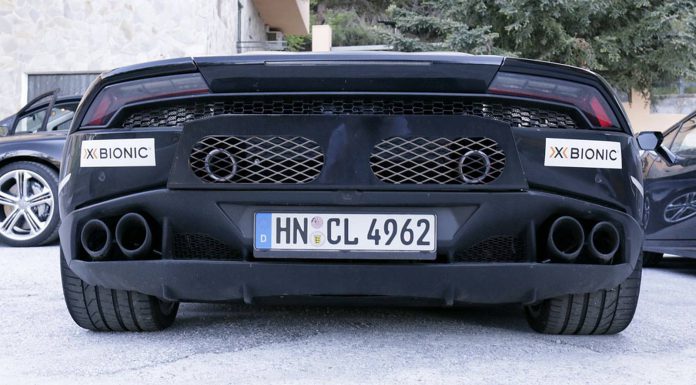 Additional Lamborghini Huracan Superleggera spy shots have surfaced as preliminary testing of the Italian supercar gets underway. While the Huracan has only been on the market for a relatively brief time, it is little surprise that Lamborghini is already working on an even more potent and performance-oriented example.
The standard naturally aspirated 5.2-litre V10 engine of the existing Huracan delivers 602 hp and while that's a 40 hp jump over the Gallardo LP560-4 it replaced, it is outshone by the likes of the Ferrari 488 GTB and McLaren 650S. Consequently, the Huracan Superleggera is tipped to receive a modest boost in power to compete with its twin-turbocharged rivals but that won't be the whole story.
Weight savings are pinned to play a key role in the hardcore Huracan's improved performance with the Gallardo Superleggera weighing a considerable 100 kg less than the standard car. As a result, we expect the same kind of weight savings for the Huracan. Additionally, a selection of visual and aerodynamic modifications will feature.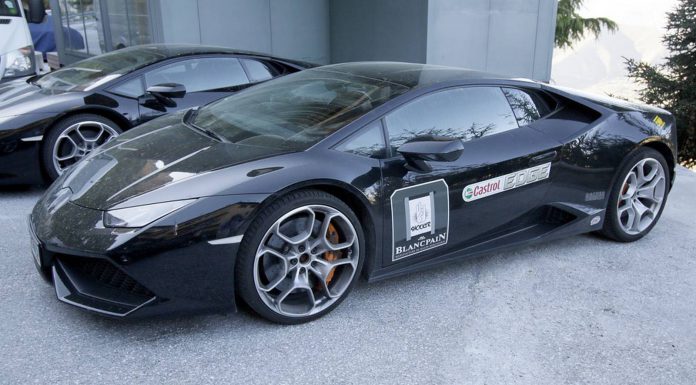 From a visual standpoint, the following Huracan Superleggera spy shots show that the rear-end features two additional exhaust pipes exiting from the middle of the rear bumper in a similar vein to the Ferrari 458 Speciale. Additionally, it is believed that the Lamborghini Huracan test mule in question is sporting slightly larger brake calipers than the current car to inevitably compensate for the additional power the hardcore Huracan is expected to receive.
Because testing of the car is in its infancy, further details remain scarce. With that being said, a world premiere at the Geneva Motor Show 2016 next March is being speculated.